CBD, or cannabidiol, has been skyrocketing in popularity over the past few years which is creating an increasingly competitive environment for businesses. Because of the increasing competition and an increasing amount of research and personal testimony, businesses that create CBD products are creating new products and making their existing products even better. In this article, we're highlighting ten CBD companies that have created some of the most innovative CBD products of the year, or have accomplished something that makes them a stand-out in the CBD industry.
Table of Contents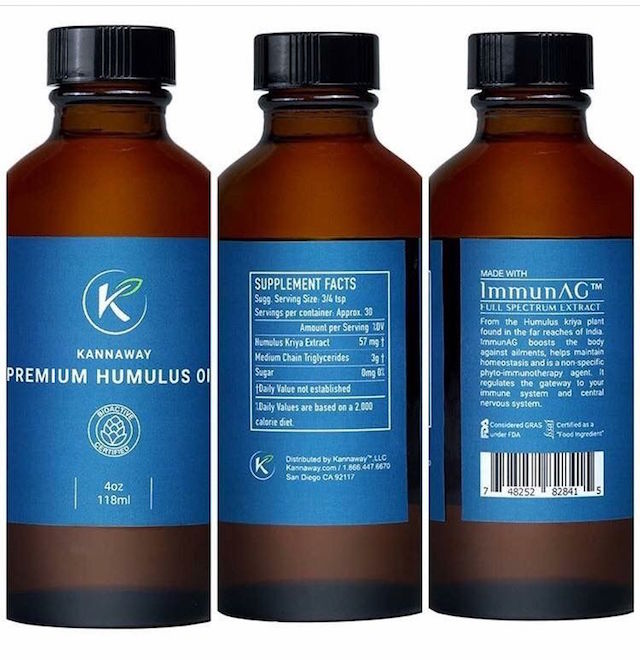 Kannaway has recently created the first-ever CBD supplement that is not sourced from the cannabis plant. Their Premium Humulus Oil has been formulated with an extract from the Humulus plant. Kriya brand Humulus was discovered as a source of CBD just a few years ago in India. Peak Health, a fitness and nutrition company, has a team of doctors and scientists that discovered the plant and then selectively bred it to have high levels of CBD so that it could be extracted, creating their ImmunAg™ oil. Kannaway has partnered with Peak Health to bring this product to the market.
What makes this so innovative is that, while CBD is completely legal in America, there has been increasing confusion about the legality of these products which may make them harder to obtain in certain places. Kannaway has taken that stress away from purchasing CBD for those who live somewhere that they might face these complications.
Website: https://kannaway.com/
Facebook: https://www.facebook.com/WeAreKannaway/
---
2. CanChew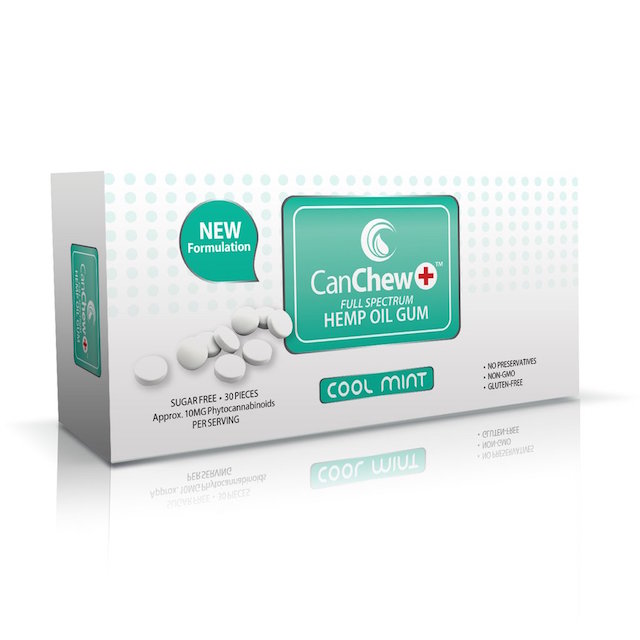 CBD chewing gum hit the market last year and it is a great option to get the dose of cannabidiol that you need in a convenient (and tasty) way. Having gum as opposed to drops makes it so that you don't have to worry about measuring your dosages on your own and it makes it easy to take it with you on the go if you should need to do so. CanChew offers the only patented CBD chewing gum in the world and it was the first company to offer CBD in chewing gum. Their product has been featured in several different magazines; it's also gluten-free, vegan, non-GMO, and has no artificial sweeteners or preservatives.
Even though this product hit the market last year and has seen great success, CanChew continues to work on improving their product. Those improvements are why we're highlighting it here. Their formula now allows for you to absorb the majority of the CBD within the first 30 minutes of chewing so that you're not wasting any of it; before these changes were made, it could take an hour for your body to absorb just half of it.
Facebook: https://www.facebook.com/CanchewGum
---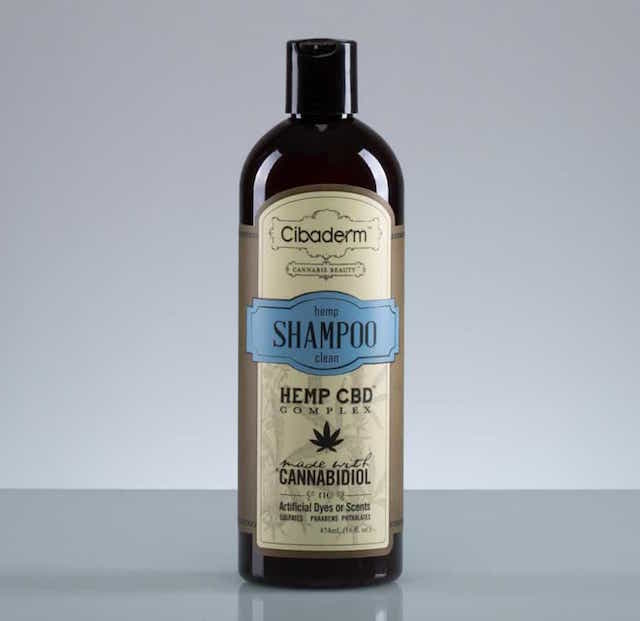 Cibaderm is a company that makes beauty products with cannabidiol. CBD is great for your skin because it helps fight overproduction of oil, has antioxidants, and fights irritation and inflammation. It's also extremely healthy for your hair because it perfectly blends with other essential oils to moisturize and strengthen your hair. Cibaderm recently rolled out a new CBD product, shampoo and conditioner. This is great because it can help anyone who has problem skin on their scalp while revitalizing their hair.
Cibaderm's shampoo has no parabens, no sulfates, and contains no artificial dyes, scents, or harsh chemicals. It's a natural and gentle shampoo that is more on par with what you'd find in the salon rather than the drug store. Another great bonus is that this shampoo and conditioner duo is safe for color-treated hair so you can have healthy tresses without sacrificing your style.
Website: https://hempmeds.com/
Facebook: https://www.facebook.com/Cibaderm/
---

Sträva Craft Coffee is a quickly-expanding coffee company that was founded by a pair of friends that love high-quality, delicious, and responsibly sourced coffee. Sträva has created hemp oil infused specialty coffees that are rich in CBD. CBD coffee is one of the newest trends in CBD and we think that's great. Coffee is already a part of so many people's everyday lives that this could serve as a perfect introduction to the benefits of the compound without stepping too far outside of their comfort zones. Another benefit is that the CBD is known to combat anxiety, which is something that people can struggle with when it comes to too much caffeine.
Sträva offers four varieties of CBD coffee in what they call their Peace & Wellness line, each with different amounts of CBD per each 12-ounce bag of whole-bean coffee. Focus contains 30 milligrams of CBD, Restore contains 120 milligrams, and Elevate contains 240 milligrams. There is a decaf option, Escape, which contains 60 milligrams.
Website: https://www.stravacraftcoffee.com/
Facebook: https://www.facebook.com/stravacraftcoffee/
---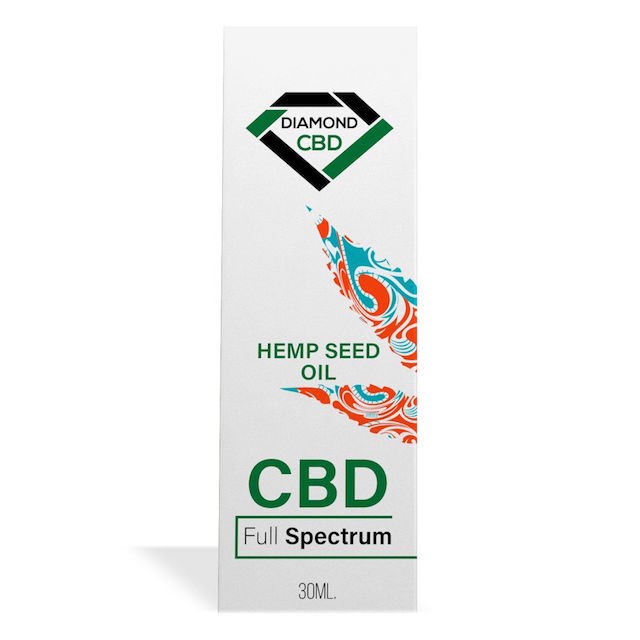 Most of the CBD oil products on the market tend to contain CBD isolate. That means that the extraction process used results in pure CBD oil that contains cannabidiol and none of the other compounds found in the plant. In reality, there are way more cannabinoids that can also benefit the body. For the majority of people, CBD isolate provides them with all the great benefits that they need because it offers nearly all of the benefits of the other cannabinoids combined. In addition, CBD isolate has no side effects whereas some cannabinoids might. However, studies have shown that full-spectrum CBD oil can be more effective in relieving pain and other ailments. It also gets more effective as dosage increases.
Diamond CBD is a highly-respected company that uses non-GMO sources and the gentlest extraction process to guarantee that customers truly get the most out of their products. There is a new line of products that they have rolled out that all contain full-spectrum CBD oil, which contains all of the cannabinoids present in the plant. This product may contain trace amounts of THC, but not enough to affect the legality or create any psychoactive effects.
Website: https://www.diamondcbd.com/
---
5. WillPower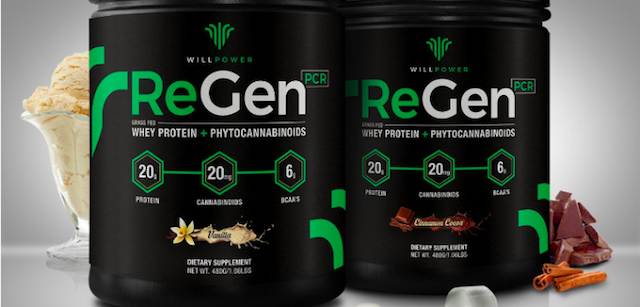 WillPower is a brand new CBD company that emerged this year and it is the first of its kind. This company was founded by a former professional athlete and makes industrial hemp dietary supplements that are specifically geared towards sports and fitness nutrition. ReGen, the flagship product of this brand, is a protein powder that contains CBD. The whey protein used comes from 100% grass-fed dairy cows and the supplement has branched-chain amino acids, which are essential for promoting muscle recovery. The CBD oil used in ReGen is sourced in Colorado and is the most advanced and high-quality oil available. This protein powder is free of GMOs, gluten, and growth hormones.
This is a truly revolutionary product and is sure to spark yet another product trend in the CBD industry. This is a healthy protein supplement that comes in the flavors Cinnamon Cocoa or Vanilla that will give your body everything it needs to stay healthy, keep your mind sharp, and recover properly from your workouts thanks to the anti-inflammatory effects of CBD.
---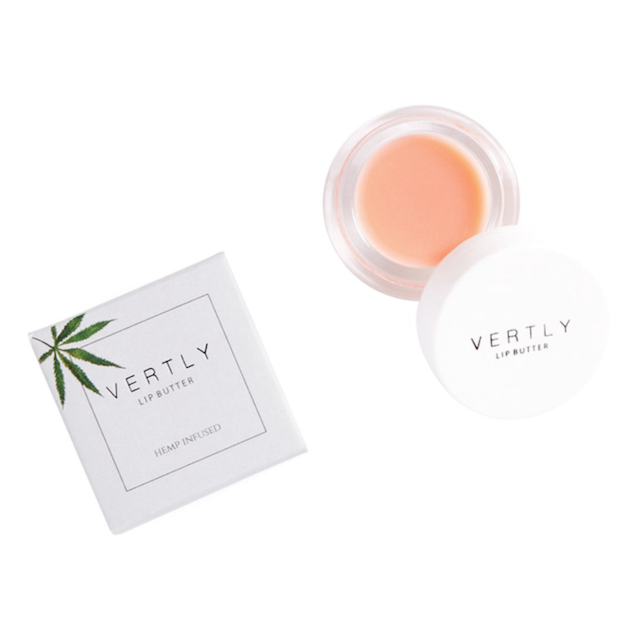 Vertly was created by a couple that wanted to combine their knowledge of the analgesic, anti-inflammatory and calming benefits of CBD with their passion for natural products. Now, the company creates skincare products from CBD, plant butters, and herbal oils. The antioxidants as well as the presence of vitamins and fatty acids in CBD help combat skin conditions and keep healthy skin looking and feeling great. As you know, the skin on your lips is extremely sensitive and can be more susceptible to problems, so Vertly has created the first-ever CBD lip balm.
This lip balm comes in either rose or peppermint and combines the incredible benefits of CBD with nourishing ingredients such as coconut oil, jojoba oil, and more. This lip balm can also be used to spot treat parts of your face or hands that need a boost as well.
Website: https://www.vertlybalm.com/
Facebook: https://www.facebook.com/VERTLYBALM/
---
7. Sacred Biology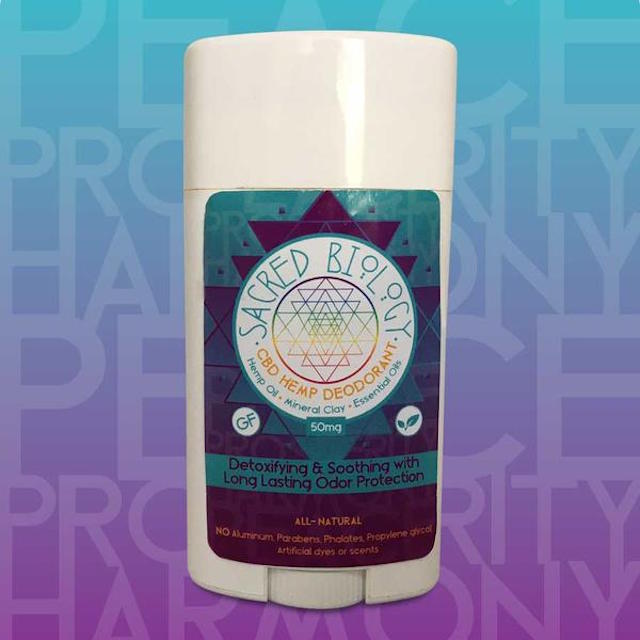 Sacred Biology is a CBD company that has emerged over the past year that specializes in making CBD products for topical application. They currently also offer a lip balm, as well as muscle rubs and lotions. The innovative product that they debuted in 2018 is a one-of-a-kind CBD deodorant. The deodorant is made with a combination of mineral clays, vegetable powders, and essential oils and contains 50 milligrams of CBD. Promoting healthy skin is extremely important, especially in areas of the body where you tend to sweat a lot. The CBD oil in this deodorant will help fight the overproduction of sebum that leads to ingrown hairs and will stave off any irritation from sweating.
Sacred Biology makes all of their products with vegan, organic, and responsibly-sourced materials. This deodorant doesn't contain parabens, phthalates, artificial dyes, or fragrances. This product is also aluminum free, which is great for those of you who struggle to find an aluminum-free deodorant but need one.
Facebook: https://www.facebook.com/SacredBiology/
---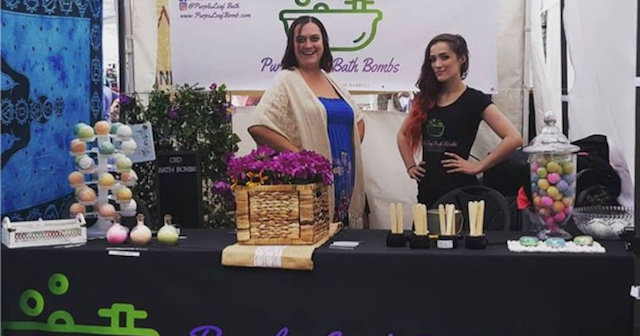 Whether you typically find bathtime boring or you just want to enhance the experience, bath bombs have been the go-to way to zhoosh it up for a while now. Purple Leaf is a pretty young company that offers CBD bath and beauty products. What sets Purple Leaf apart even though bath bombs that contain CBD have been on the market for a while, the majority of the ones available come from dispensaries. Even if you don't purchase one containing THC, you may still need a card to even access those sites, let alone make a purchase. Not only that, most bath bombs previously available all contained THC, the psychoactive compound that isn't legal.
Purple Leaf's bath bombs are all handmade with natural ingredients. The standard size bomb contains 200 milligrams of CBD, while the mini varieties contain 67 milligrams. The current list of bombs you can use to relax your skin and your mind at bathtime include Tropical Oasis, Tea Time, Rose Petal, Peach Ring, Natural Essence, Citrus Blossom, and Applemint.
Website: https://purpleleafbomb.com/
---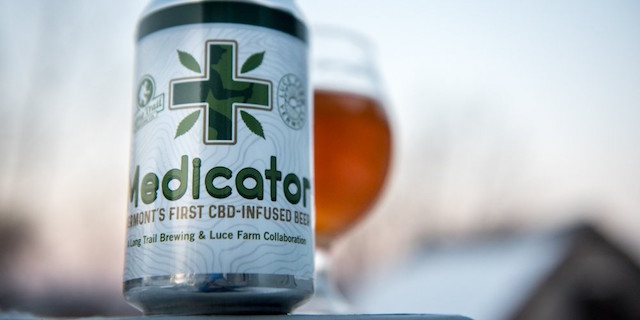 Long Trail Brewery makes a CBD-infused beer. While it is not available for purchase online, we wanted to feature this product because it is absolutely one-of-a-kind. Luce Farm is a business in Vermont that makes CBD oil honey and in partnership with Long Trail Brewery, Medicator was created. This collaborative effort is a hybrid of an IPA and an American pale ale that is made with CBD honey. After much experimenting, the beer was released in early 2018.
As of right now, this was a limited-edition product but it is one of the more creative ways to use CBD. The beer was documented as having a very hemp-forward taste and aroma thanks to the use of hemp oil and terpenes. If you do happen to make the trek to Vermont to give it a try, remember to always drink responsibly.
Website: http://longtrail.com/
Facebook: https://www.facebook.com/longtrailbrewingco/
---
Additional Resources on Buying CBD