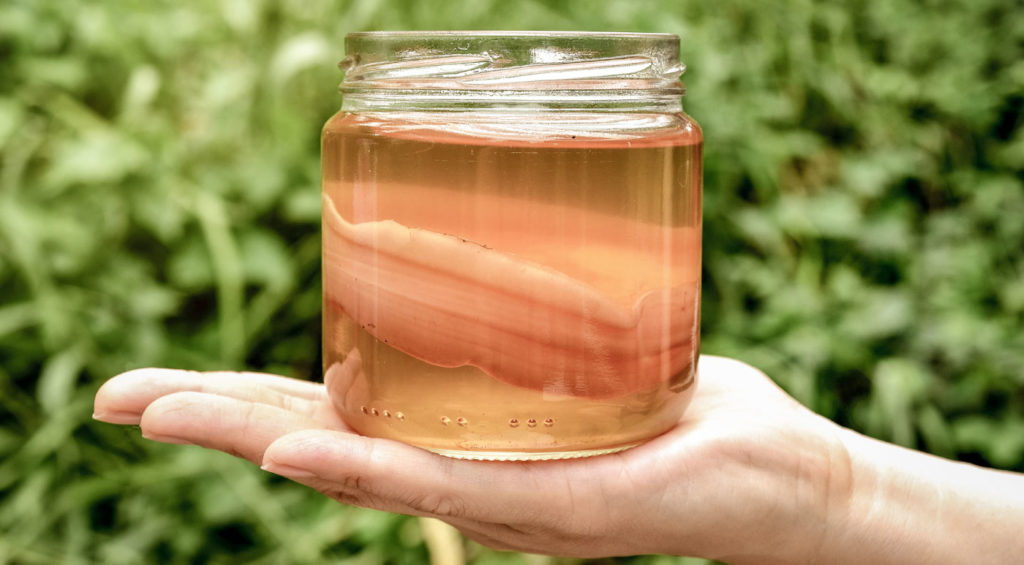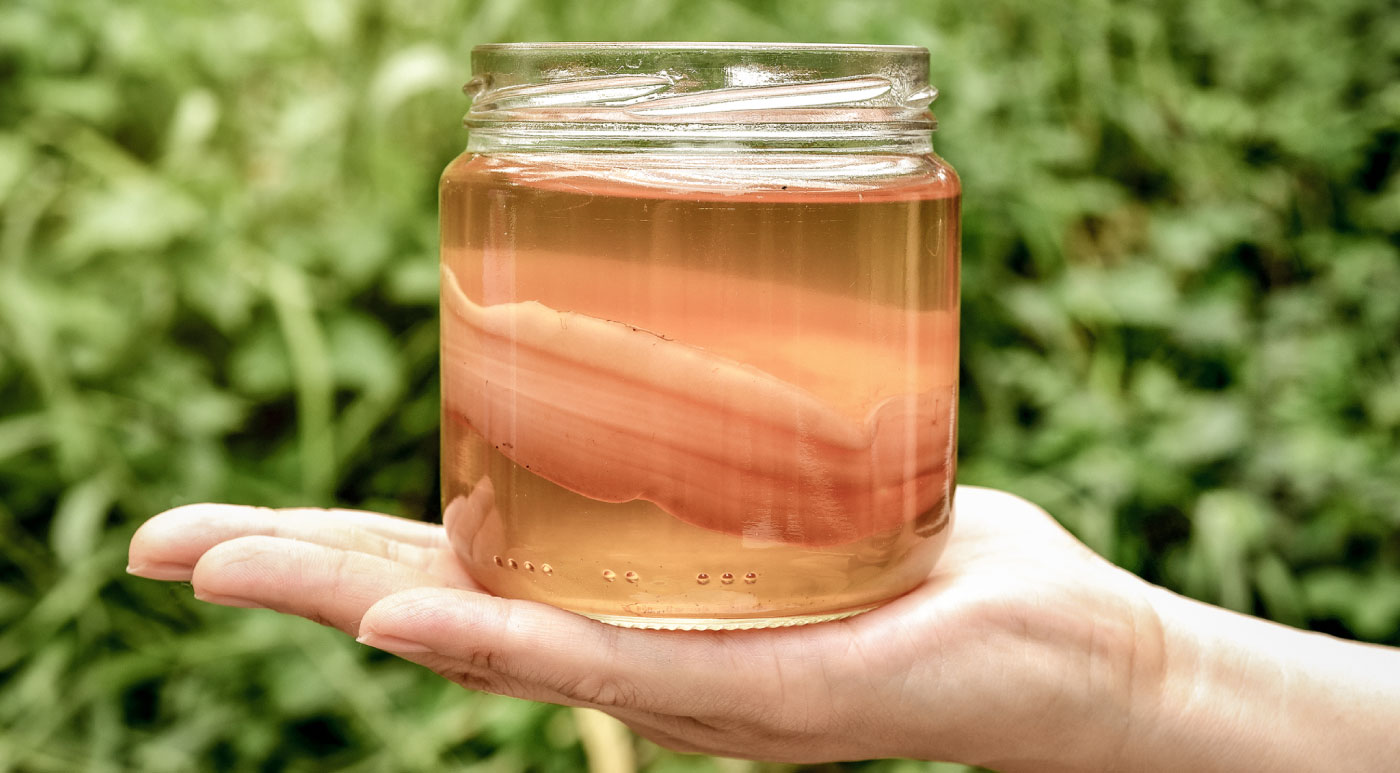 Kombucha has plenty of health benefits on its own. This fizzy, fermented, sweet-and-sour beverage is said to be helpful for everything from digestion to weight loss to improving immunity and more.
Combined with CBD, the gifts just keep on giving, making CBD kombucha a powerhouse of goodness. Still skeptical? Read on to check out our review of the top five CBD kombuchas.
Get Your Daily Dose of CBD and Healthy Probiotics With These Page Jumps!
---
The 3 Best CBD Kombuchas
Aqua Vitea Chaga Chai CBD Kombucha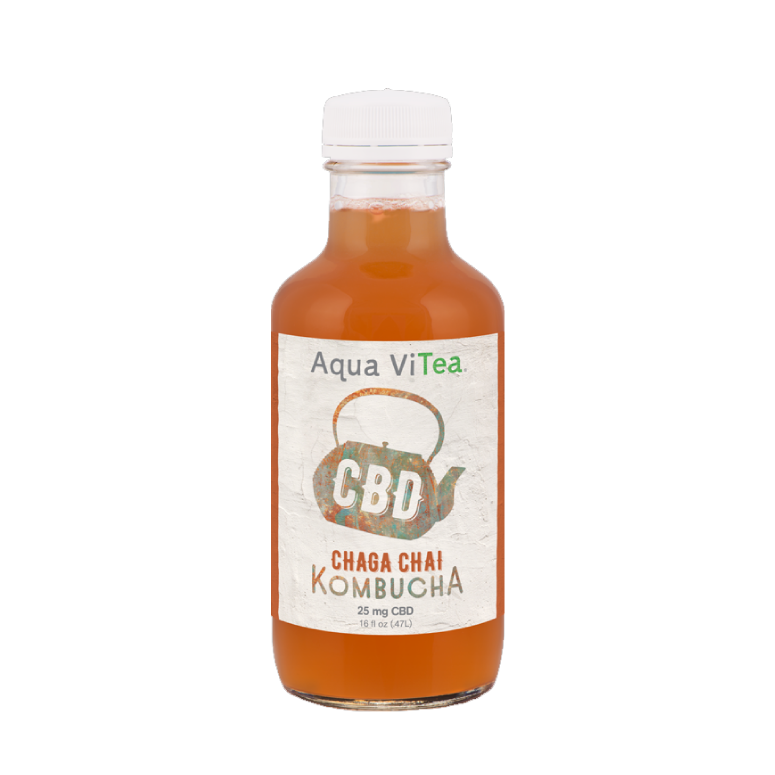 Highlights:
Made with New England Chaga
25 mg CBD
Third-party lab tested
Description:
Ingredients: Organic kombucha, organic chai tea blend, chaga mushroom, hemp-derived water-soluble cannabidiol
Company: Aqua Vitea is a Vermont-based brand founded by Jeff Weaber. The company offers a full range of authentic, non-alcoholic kombucha beverages made by combining old-world techniques with modern technology.
Chaga Chai CBD Kombucha is made with Chaga, a New-England sourced mushroom that grows in the woods. Chaga's antimicrobial and anti-inflammatory benefits combine with the potential therapeutic properties of CBD to create this powerhouse kombucha that is both earthy and spicy.
Where Can I Buy Aqua Vitea Changa Chai CBD Kombucha?
Aqua Vitea's kombucha can be found all over the eastern seaboard and in other parts of the country. Check the store locator tool to grab a bottle at a retailer near you.
---
Brew Doctor Tranquil Berries CBD Kombucha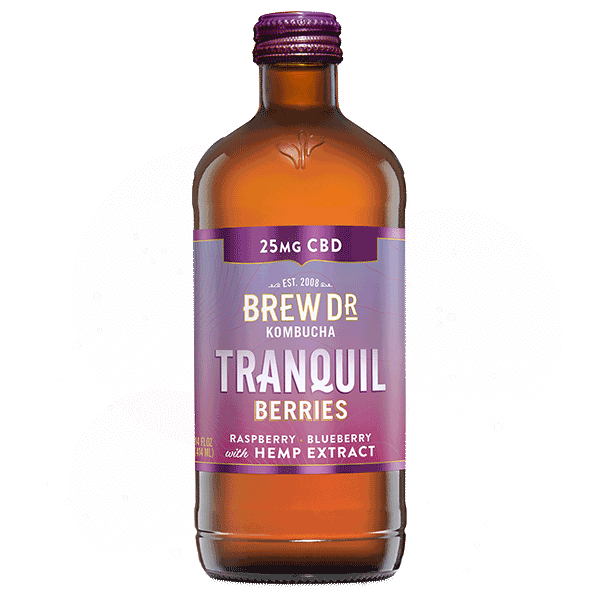 Highlights:
Certified B-Corporation
Made in Oregon
USDA organic
Description:
Ingredients: Brewed tea (water, currant,* oolong tea,* elderberry,* hibiscus,* blueberry,* goji berry,* strawberry,* raspberry*), cane sugar,* live kombucha culture (yeast, bacteria), full-spectrum hemp extract. *Organic
Company: Brew Doctor was launched in 2008 in Portland, Oregon. The brand utilizes a non-heat distillation process to make kombucha with the alcohol from fermentation removed. The result is an authentic kombucha that combines organic ingredients and botanicals into flavors like pineapple-guava, ginger-turmeric, and more.
Over the past couple of years, Brew Doctor has also begun offering the "Tranquil" line of CBD kombucha. The Tranquil Berries formulation is made with a blend of five organic berries, live cultures, and full-spectrum hemp extract. Each bottle contains 25 mg of CBD.
Where Can I Buy Brew Doctor Tranquil Berries CBD Kombucha?
You can find Brew Doctor Kombucha all over the country. Use the website's locator tool to look for a retailer near you. To purchase online, you can place an order through Instacart or your favorite grocery delivery service.
---
Upstart Lemon-Lavender CBD Kombucha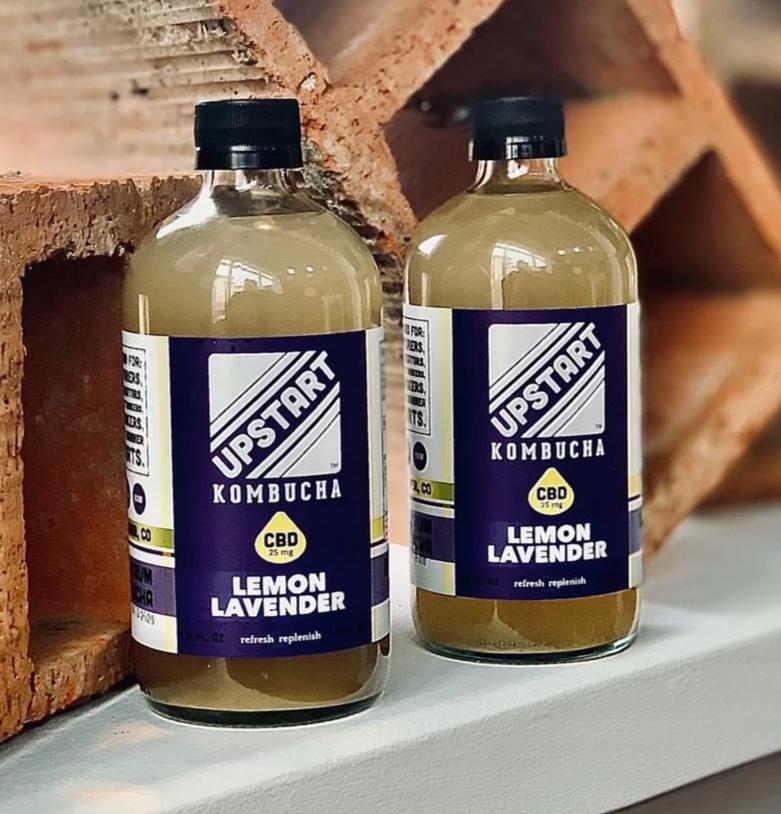 Highlights:
25 mg of full-spectrum CBD
Free shipping over $30
Made in Colorado
Description:
Ingredients: Water, organic vegan cane sugar, organic white tea, organic lavender, organic lemongrass, full spectrum hemp extract
Company: Colorado-based Upstart is fairly new to the marketplace, and its booch looks pretty promising! Headquartered in Boulder, the brand uses only the highest-quality organic ingredients combined with full-spectrum hemp to create a beverage that is as good for you as it is tasty.
Each serving of Upstart Lemon-Lavender CBD Kombucha contains 25 milligrams of full-spectrum CBD sourced from domestic hemp. Raw, vegan, and gluten-free, one serving is just 40 calories. Tart, citrusy, and relaxing, lavender and lemon pair perfectly with CBD in this calming beverage. You can order it online through Infused CBD Marketplace or find it locally in the Denver area.
---
What Is Kombucha?
Kombucha, a hip, health-conscious beverage, was traditionally brewed in Russia but can be dated back to China in 221 BCE. In India, communities widely enjoy kombucha tea, and the United States is finally jumping on board with this ancient brew.
According to a short history about the drink from the LA Times, "chayniy grib," as kombucha is known in Russia, was enjoyed as an alternative to fizzy sodas. Now more than a soda pop alternative, kombucha's popularity continues to grow.
The simple drink boasts a far healthier nutritional profile than its carbonated counterparts. Just three ingredients go into kombucha: tea, sugar, and SCOBY. Every culture calls it something else, but the "SCOBY" is essentially a collection of (good) yeast and (good) bacteria.
Is Kombucha Any Good?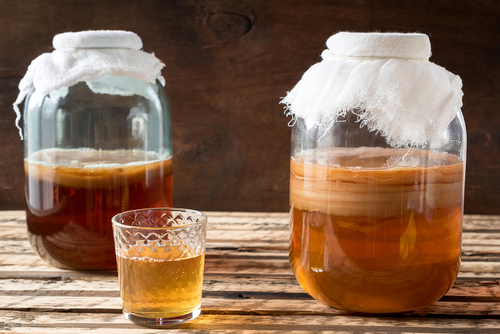 At first glance, people may be turned off by the sugar aspect of this drink, but there's hardly any sugar content at all. The sugar gets eaten, broken down, and remade into something far healthier: probiotics.
These probiotics are believed to be useful for balancing digestion and improving overall immunity, much like those in fermented foods like kimchi, sauerkraut, and yogurt.
The yeast and bacteria also play a vital role in caring for your immune system. Drinking kombucha may help keep your colony of beneficial gut bacteria regulated and your immunity high to improve healing and energize the body.
Kombucha is also believed to help regulate bowel function, improve digestion, and prevent urinary and yeast infections. Some studies also suggest that kombucha can have an even more significant benefit to your health by combatting the growth of cancer cells.
With so much promise and at such a low cost, kombucha is an enjoyable way to keep your gut firing on all cylinders.
Why Add CBD to Kombucha?
Kombucha's running list of potential health benefits touches on many of the same areas as CBD, like relieving constipation, restoring digestive balance, or losing weight. CBD–or cannabidiol–has been linked with potentially improving a range of health troubles from chronic pain to mental health. It comes directly from the cannabis plant, predominantly hemp, and has found its way into all types of products.
Adding CBD to kombucha makes for a natural match for a double dose of rejuvenation with all-natural ingredients. Whether you buy it or make it yourself, the slightly sour, slightly sweet drink will be a great addition to your wellness routine.
Where Can I Find CBD Kombucha?
You may have noticed that our list—while very detailed—contains only a few brands selling CBD kombucha. Currently, it's harder to purchase online than most other CBD products. You can most often find kombucha containing CBD at health food stores, farmers markets, cafes, and alternative grocers. Most of the brands on our list have a lookup tool so you can locate where to purchase your CBD kombucha from a local retailer. We also recommend calling a brand directly to see if there is a way to ship the product to you.
If you don't live near any of the establishments listed and you really want to try CBD kombucha, you can consider making your own. In this next section, we will talk about how.
Make Your Own CBD Kombucha
If you can't find any CBD kombucha for sale near you, never fear. You can easily create your own at-home kombucha brewery to inspire chill! There are plenty of step-by-step guides online that will give you tips on how to get started. Making your own kombucha is a nice hobby to have and one that you can be proud to share with your friends.
If you want to make a CBD kombucha concoction, there are different methods you can choose from depending on how you'd like to do it. No clue how to get started? We've got a few recommendations to kickstart your CBD-infused kombucha.
Add Your Own CBD Oil to Brewed Kombucha
This is perhaps the easiest, no-brainer way to get both a daily dose of probiotics and a dash of CBD. It only calls for you to buy some kombucha (or get some from a home-brewer friend), buy some CBD tincture, and mix well.
Use CBD-Infused Tea to Brew Kombucha
If you purchase kombucha, there's a good chance you already have some of what it takes to start a batch of your own! Kombucha revolves around a colony of bacteria and yeast, known as a SCOBY. This jellyfish-like substance is the powerhouse of your brew. It combines with tea and sugar to pump out the gut-healthy microbes you want.
Note: Make sure the kombucha you intend to start your SCOBY with is raw and unflavored. You can add your own flavor later!
Once you get your hands on this SCOBY, you can begin the brewing method. The type of CBD-infusion you do for this recipe will come from the kind of tea you use. While traditional kombucha brewing calls for black or green tea, using CBD-infused tea gives you the dose you're looking for.
Use CBD-Infused Honey to Brew Kombucha
Typically, crafting Kombucha combines brewing tea, combining it with a SCOBY, and adding sugar for it to feast on. This sugar is essential to releasing the SCOBY probiotics to create your tea.
White sugar is common, but honey is also an option. Just like CBD tea, you can also buy CBD-infused honey. Ideally, you'll avoid bacteria-rich raw honey, as it will interfere with the bacteria you're trying to populate in the brew.
Honey is just as chock-full of sugar as normal cane sugar, so the SCOBY will happily enjoy it and produce the proper outcome, but with some CBD built in.
How Do We Pick the Best CBD Kombucha?
We try out lots of CBD products each and every day. Beyond taste, packaging, and other criteria, we also examine some specific factors to determine the best CBD products:
Laboratory testing by an independent organization is the most critical factor in deciding the quality of any CBD product. The brand should have the certificates of analysis (COAs) displayed prominently on its website or clearly guide consumers on how to find this vital information.
Consumers deserved to know exactly what is in the product they are purchasing, how much CBD it contains, where it was made, and other pertinent information. Clear and accurate labeling is vital in the CBD industry, and we prefer brands that go the extra mile in this department.
U.S. hemp is the cleanest and safest in the world, thanks to our strict regulations on farming this crop. Hemp absorbs everything from the soil in which it is planted. Therefore, that soil needs to be pristine. CBD sourced from domestic hemp is the first step in the quality assurance process.
When looking at the overall cost-to-value ratios of the best CBD kombucha, we don't just look at the sticker price. Instead, we calculate the cost per milligram of CBD in the product. This is the fairest way of determining whether a brand is a good buy or whether it's overpriced.
Customer Service and User Experience
At a time when so many people are shopping online for the products they need, it's more important than ever that the experience goes smoothly. We look for brands with excellent customer service and an easy-to-navigate website that makes online purchasing a pleasure, not a hassle.
There's a lot you can learn about a brand by merely looking at what others are saying. We scour forums, social media, and reviews to see what brands people are talking about and why. Overall, reputation plays a part in a brand's success, and real users are one of the best ways to find out why.
---
Additional Resources: