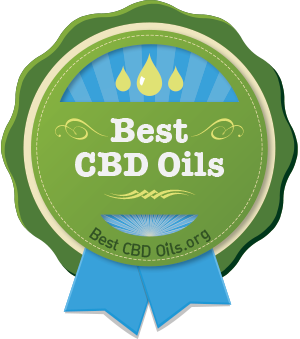 Diabetes is a condition where the body is unable to properly utilize and process sugars, which are the main source of energy that the body uses.
Featured CBD Brands:
Sugars are in a lot of foods and drinks, many of which you might not even realize, because not everyone knows that carbohydrates are what is known as "complex sugars" and are broken down into sugars that act the exact same was in the body as regular table sugar. Because of this, Diabetics and those that are at risk of developing Diabetes have to watch their diets, and have to lead an overall more healthy and active lifestyle.
Diabetes causes many different problems and hurdles to having a better quality of life, such as increasing the risk of heart disease, increasing blood pressure, causing digestive issues, being the source for chronic pain and inflammation, causing kidney damage (nephropathy), causing various skin conditions, being the source of damage to the eyes (retinopathy), causing depression and anxiety, is linked to Alzheimer's Disease, and nerve damage (neuropathy), which is by far the most common side-effect of being Diabetic.
Use These Page Jumps To Find Your CBD Oil!
Top 7 Best CBD Products for Diabetes Prevention
According to the Center for Disease Control (CDC) more than 30 million people in the United States alone have Diabetes, and one-in-four of those people don't even know that they have Diabetes. Additionally, more than 84 million adults in the United States have what is known as "pre-Diabetes" and 90% of them are not aware of the fact. Pre-Diabetes is a condition where your blood glucose levels are higher than what is recognized as a normal range, but not quite high enough to be diagnosed with having Type 2 Diabetes.
Pre-Diabetes is a condition that can quickly and easily lead to becoming a Type 2 Diabetic, but with proper preventative care and lifestyle changes, can often be treated. More than 95% of the population that has been diagnosed with Diabetes have been diagnosed as having Type 2 Diabetes, which is the one form of Diabetes that can often be avoided with proper care.
Common symptoms that could indicate that you are pre-Diabetic include the following:
Frequent thirst, or thirst that is not easily quenched;
Frequent need to urinate;
Fatigue, and;
Blurred vision.
You can also be at risk of developing Diabetes if you meet one or more of the following criteria:
Are overweight;
Are 45 years of age, or older;
Have a parent or sibling that has Type 1 or Type 2 Diabetes;
Are physically active fewer than 3 times in a given week, and / or;
You have ever suffered from gestational diabetes (diabetes while pregnant), or you have ever given birth to a baby weighing more than 9 pounds.
If you have one or more of these symptoms, or have reason to believe you are at risk of becoming Diabetic based on the above criteria, you should consult a health professional. If it is determined that you are pre-Diabetic, or if you are at risk of developing Diabetes, you can greatly reduce your risk of developing Diabetes with proper changes to your lifestyle, including changes to your diet, losing weight and becoming more active. In addition to making healthier decisions in regards to your eating habits and your activity levels, taking a CBD supplement daily can help manage some of the factors that play a role in developing Diabetes.
Despite the fact that there has been no definitive link between CBD use and lowered blood glucose levels, due to a lack of comprehensive testing at this time, CBD can help treat anxiety. Anxiety is a common factor in increasing the body's cortisol levels and blood glucose levels, due to making the body to start its "Fight or Flight" defense mechanism. Regular CBD use has also been proven to help with maintaining a more healthy and regular appetite, which is an important factor in preventative care for Diabetes.
Finally, CBD use has very strong and oft-cited evidence for its ability to treat inflammation and research in 2006 that showed regular CBD use greatly reduced the incidence of Diabetes in non-obese Diabetic (NOD) mice. However, because there has been so little research done on how CBD might affect blood glucose levels, relying on CBD to prevent developing Diabetes should not be the first-line of defense, but should instead be used as a supplement along with keeping more active and having a better diet. CBD use can still be beneficial for the secondary and tertiary reasons we've outline, which is why we have compiled the Top 10 CBD products that we feel will be the most beneficial for those that are at risk of developing Diabetes.
---
Populum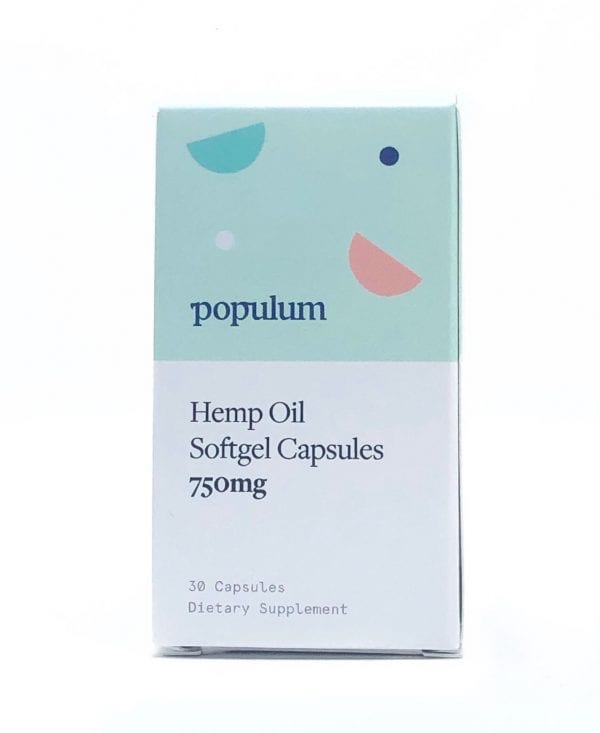 Populum's Full-Spectrum Hemp CBD Capsule are available in two concentrations: either a 450 mg total CBD concentration with 15 mg of CBD per recommended serving, or a 750 mg total CBD concentration with 25 mg of CBD per recommended serving. Each of these two concentrations come in a 30 capsule count bottle. These Full-Spectrum hemp CBD capsules' CBD is extracted from domestically grown and 100% certified organic industrial hemp sources. They are gluten-free, non-GMO, and contain only all natural ingredients—providing a lot of peace of mind for those that are concerned about what they put into their bodies.
Our Recommended Product for Diabetes Prevention: Full-Spectrum Hemp CBD Capsules
---
CBDfx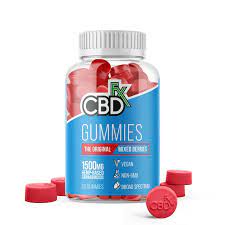 These 300 mg of total CBD concentration CBD gummy bears from industrial hemp sources have a very pleasant and delicious mixed berry flavor. These gummies available through CBDfx are completely vegan-friendly, organic and flavored with all natural flavors. The CBD used in this product is sourced from 100% organic and local farms that practice cruelty-free and sustainable farming practices, making CBDfx's CBD-rich gummy bears an excellent choice for individuals that are at risk for developing diabetes that want to start taking a CBD supplement to help mitigate their risk. These gummies, which are lightly dusted with pure organic cane sugar, are great for creating and keeping a regular sleep schedule, which has a very beneficial impact on your mood and your digestive system.
Our Recommended Product for Diabetes Prevention: CBD Gummy Bears
---
CBDmd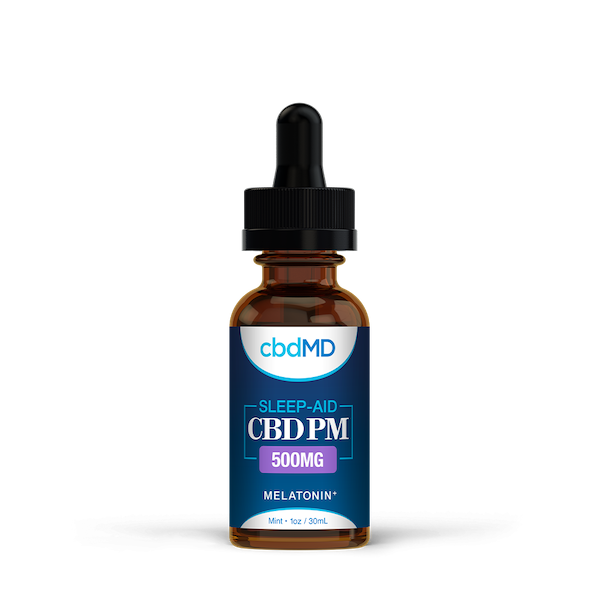 CBD PM is a CBD tincture available through CBDmd that gets rigorously tested for a complete phytocannabinoid profile, for purity, efficacy, and potency by a third-party testing laboratory. The ingredients in CBDmd's CBD PM product are: CBD extracted from domestic and organic industrial hemp, MCT Oil (which was extracted from coconut oil), melatonin, passionflower extract, cascade hops, valerian root, chamomile flower extract, and lemon balm. We have chosen this CBD product because of how potent it is in providing users with a good night's sleep. Being well-rested is actually a very important part in helping with proper digestion, and helping to decrease anxiety. Both of these factors work in your favor to help mitigate some of the more negative impacts that Diabetes has on your body.
Our Recommended Product for Diabetes Prevention: CBD PM
---
Ojai Energetics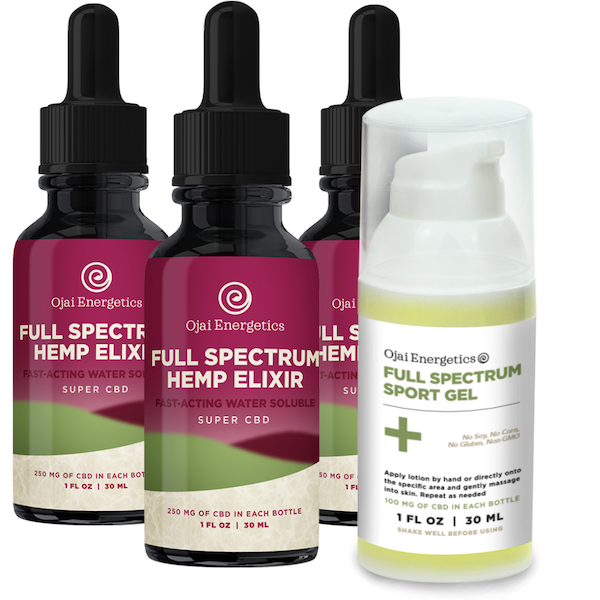 Ojai Energetics' Full-Spectrum Hemp Elixir is made only with completely organic ingredients, and one of the fastest acting and most bioavailable CBD products on the market today. Because this product is completely water soluble, the bioavailability of it is significantly greater than other comparable products available. This is one of the main reasons that we have chosen this particular product in this ranking. Having a CBD product that is quick acting and allows your body to make the absolute most use out of the CBD concentration as possible is incredibly helpful for people that have chronic illnesses, such as diabetes. Ojai Energetics' Full-Spectrum Hemp Elixir is also incredibly helpful for those that have diabetes because it is an oral tincture, so it does not rely on the digestive system, which many diabetics and pre-diabetics have issues with due to nerve damage. This is called gastroparesis and it slows down the digestive process in those that suffer from it, making it take a longer time to break down food solids, such as CBD gummies, chewables and other CBD-based edibles.
Our Recommended Product for Diabetes Prevention: Full Spectrum Hemp Elixir
---
Calm by Wellness
This CBD tincture made by Calm by Wellness is fast-acting due to being an oral sublingual product, which means your body will have no problem in utilizing the CBD contents of it, regardless of any digestive issues you may be facing. This Broad Spectrum extracted CBD product is available in a 34 mg concentration per manufacturer's recommended dosage. Regardless of which concentration you think is best for you, all three come in a 1 fluid ounce bottle with an easy to use dropper top included. This particular oral tincture is sold in a strawberry-lemonaid flavor that makes taking your CBD supplement an enjoyable and easy task, and with proper daily use can help greatly to diminish your anxiety, allowing for better digestion and sleep.
Our Recommended Product for Diabetes Prevention: Hemp CBD Oil Tincture
---
Life Bloom Organics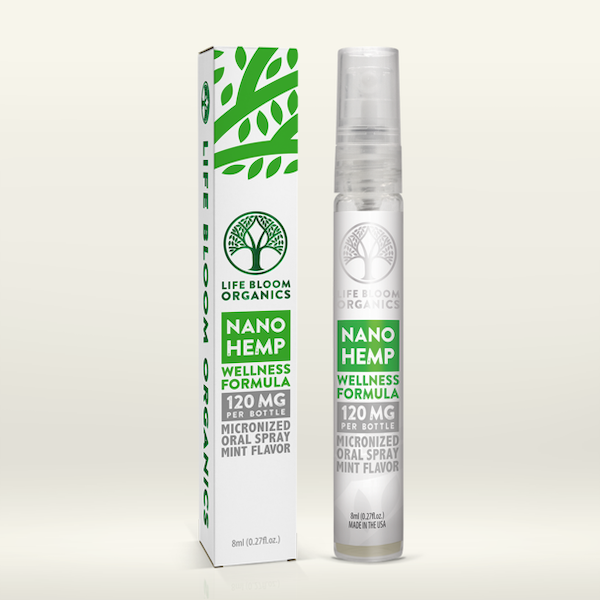 Life Bloom Organics has developed a proprietary nanotized hemp formula that utilizes CBD that was expertly extracted from 100% organic and locally grown industrial hemp from farms that practice sustainable farming procedures. There is a total of 120 mg of premium nano CBD extract per 8 mL oral spray bottle. Because this CBD product is taken orally, and due to the CBD extract being nanotized, this is an excellent choice for getting your daily CBD intake for mental health, a better overall mood, better rest at night, and a more regular digestive process. All of this comes together to fight against the many factors that often lead to the development of diabetes in individuals that are predisposed to developing either Type 1 diabetes or Type 2 diabetes.
Our Recommended Product for Diabetes Prevention: Premium Nano Hemp Wellness Spray
---
NuLeaf Naturals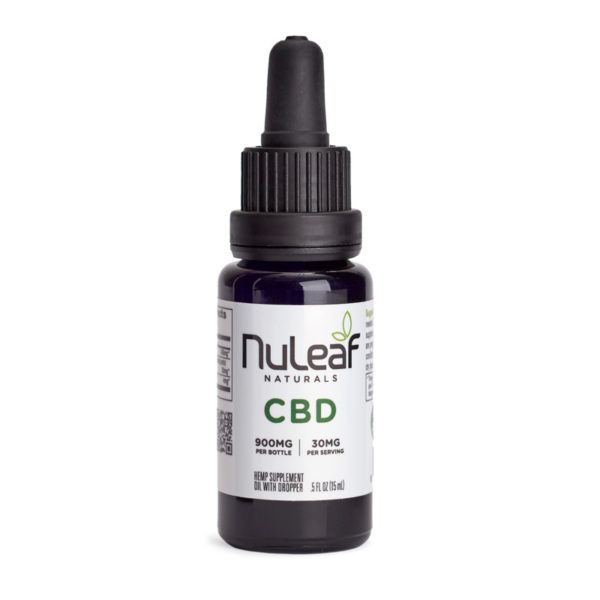 The Full-Spectrum extracted CBD oil tincture available by NuLeaf Naturals is a third-party laboratory tested, all-natural, and organic product that contains CBD that was CO2 extracted from local and 100% organic industrial hemp sources. Because this product is an oral tincture, your body will be able to utilize the contained CBD faster, providing you with quick relief from anxiety, insomnia, and / or digestive issues. These three factors play a large part in developing diabetes because they can have a huge impact on your overall blood glucose levels and your pancreas' natural insulin production. This product is available in five different convenient concentrations: 300 mg, 900 mg, 1800 mg, 3000 mg, and 6000 mg. These concentrations are directly influenced by the size of the bottle (0.17 fl. oz, 0.5 fl. oz, 1 fl. oz, 1.69 fl. oz, and 3.38 fl. oz) and each contain 50 mg of CBD per mL of oral tincture.
Our Recommended Product for Diabetes Prevention: Full Spectrum CBD Oil
---
Top 5 Best CBD Products for Diabetic Neuropathy
One of the most common and disruptive hurdles facing Diabetics is neuropathic pain—which is commonly referred to simply as "nerve pain." In fact, according to the National Institute of Diabetes and Digestive and Kidney Disease (NIDDK) between one-third and one-half of those that have Diabetes have at least one form of Diabetic Neuropathy. There are four forms of neuropathy that commonly affects those suffering from either Type1 Diabetes or Type 2 Diabetes. These different forms of neuropathy are:
Peripheral Neuropathy: the most common form of neuropathy, peripheral neuropathy most commonly affects the extremities, such as the hands and feet;
Proximal Neuropathy: a form of neuropathy that is also often called diabetic amyotrophy. Proximal Neuropathy affects the muscles in the upper part of the legs, namely the thighs and buttocks, but can also affect the lower back and the hips;
Autonomic Neuropathy: this form of neuropathy affects the nerves that are in charge of the autonomic nervous system. This form of neuropathy commonly affects the body's homeostasis, such as the digestive system, the body's internal temperature, the body's circadian rhythm, blood pressure, breathing, and even the heart rate, among others, and;
Focal Neuropathy: the above examples of neuropathy are what is known as "polyneuropathies" which means they affect more than one nerve group. Focal Neuropathy on the other hand only affects one nerve group. Focal Neuropathy happens suddenly, and is usually felt in eyes, torso, and legs. The feeling of Focal Neuropathy differs to how Proximal or Peripheral Neuropathy are perceived, as it often involves what is described as "shooting" pain. Because Focal Neuropathy only involves one group of nerves, it is often called mononeuropathy.
Neuropathy is not the only source of chronic pain for Diabetics either. Having high blood glucose levels for an extended period of time—such as having Diabetes for a number of years, or having poorly controlled blood glucose levels—wreaks havoc on the body in a variety of ways, particularly the blood vessels. Blood vessels get easily damaged by high blood glucose levels, and this often leads to chronic inflammation, particularly in areas that are commonly more susceptible to chronic inflammation and chronic pain, such as the joints and extremities.
Regular CBD use has been proven to have a strong effect on nerve pain, chronic inflammation, and chronic pain from joint stiffness and muscle pain. Because Diabetics often suffer from one—or often times more than one—of these ailments, CBD can really help to increase the overall quality of life for Diabetics. Additionally, by helping to alleviate the pain that many Diabetics face in their day-to-day lives, CBD can help them achieve a greater amount of physical activity in a given week, which is one of the two main things that Diabetics need in order to mitigate the effects of Diabetes and to help keep their blood glucose levels under control.
CBD doesn't just help with reducing a Diabetic's Neuropathic pain and inflammation, but can also help with two of the major contributing factors that put Diabetics at risk of developing Neuropathy, or contributes to the pain and other negative impacts that existing Neuropathy causes: being overweight and tobacco use and / or alcohol use.
Because regular CBD use can assist in preventing Diabetic Neuropathy, and can help to mitigate the effects of those that are already suffering from one or more of the different types of Diabetic Neuropathy, we have chosen the Top 10 CBD products that we feel will be the most beneficial for Type 1 and Type 2 Diabetics to take.
---
Populum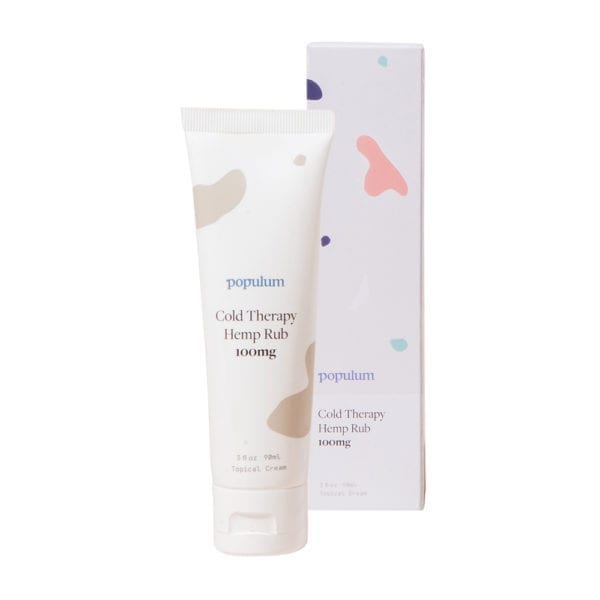 Populum offers a Cold Therapy Hemp Rub that is freezing cold and absorbs quickly into skin. The source hemp is grown in the United States and full-spectrum CBD is extracted from it and blended with several beneficial ingredients such as chamomile, arnica, and more. Something that makes this product stand out is that it also includes aloe vera, which is important for those with diabetes because your skin can become so dry. This will help you combat neuropathic pain while moisturizing your skin. This comes in a three ounce tube, and you would apply it much like a lotion. That is truly the only drawback of this product, is that you would have to touch it to apply it. Otherwise, it's a great value and works fast while pulling double duty combatting pain from neuropathy with cooling relief, and soothing your skin with healthy botanical ingredients.
Our Recommended Product for Diabetic Neuropathy: Cold Therapy Hemp Rub
---
Fab CBD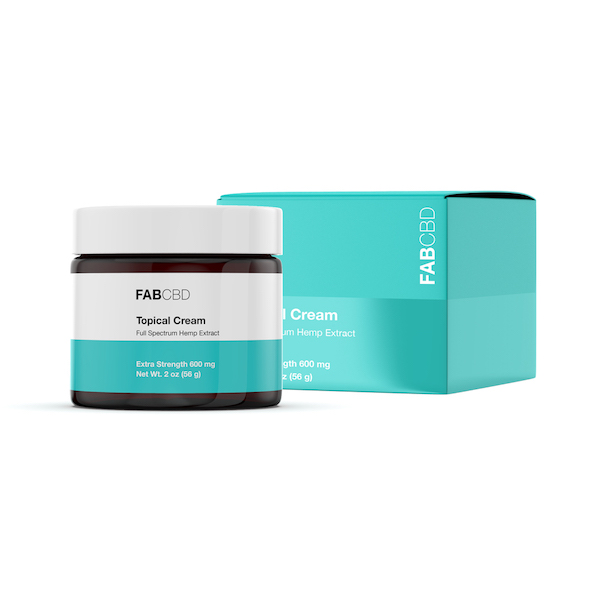 FAB CBD is featured for its topical CBD cream that comes in a tub. The advantage to this is that you can get exactly how much you need and then any excess, you can easily put it back into the container instead of having to wash it off your hands and send it down the drain after applying.
The tub is two ounces and it contains 600 mg of CBD per container, so it is pretty strong. It is made with organic source hemp that is grown in America, and that pure CBD is blended with some of the leading skincare ingredients like aloe vera, cocoa butter, coconut oil, olive oil, vitamin E, chamomile, and more.
This product has more natural ingredients than a lot of others on the market and instead of containing menthol, it contains cinnamon. This can provide warm soothing relief while the CBD can get deep in your skin and nourish it while calming the nerve pain. One of the perks of this product is it contains blood orange essential oil for a light scent that doesn't smell like traditional pain cream.
Our Recommended Product for Diabetic Neuropathy: Topical CBD Cream
---
The Good Patch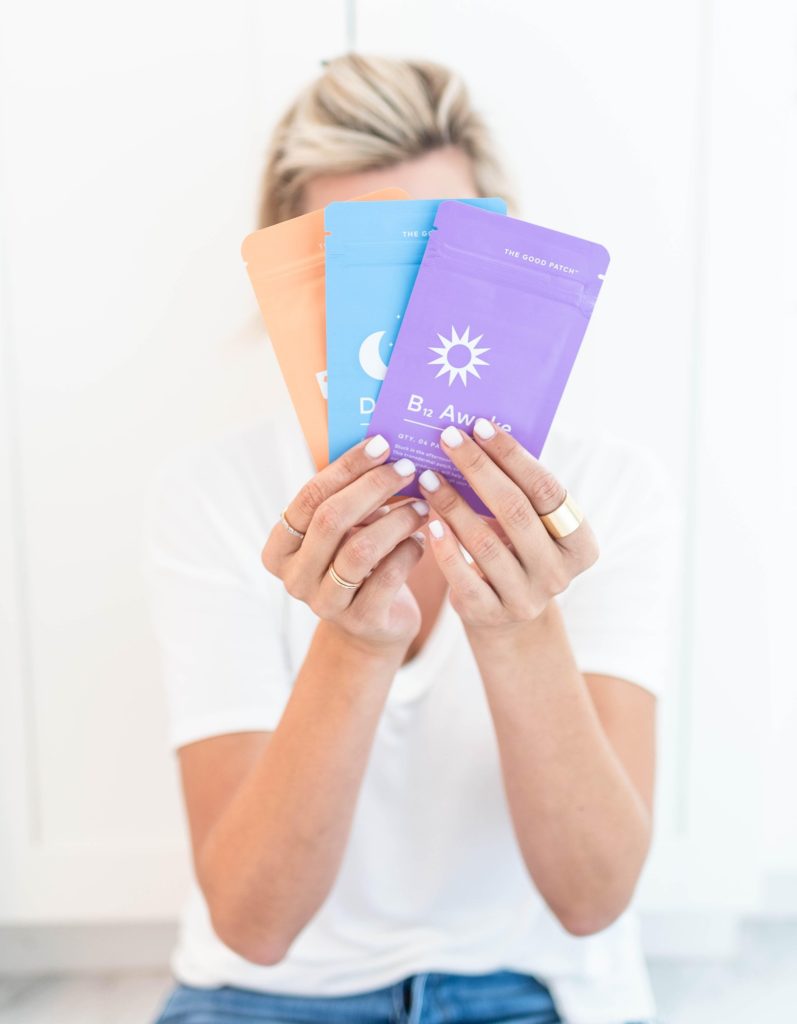 Patches are a very common solution to pain. They adhere to the skin and disperse the medication (or whatever) over time. The Good Patch is a CBD patch company that makes a variety of different patches and we suggest their Pain Relief patch. It is both topical and transdermal.
You can order a single patch or you can subscribe and save as much as 20% off your purchase. There are 15 milligrams of premium hemp per patch, as well as other ingredients like menthol, capsaicin, and more. The benefits of using a patch are that you don't have to apply any substance to your skin and wait for it to absorb or dry; instead, you can just stick it on and go.
You won't have to worry about reapplication for several hours at a time and there is usually not a strong scent of pain cream associated with the use of a patch. The patch it also designed to work over a period of time, so it provides sustained relief.
Our Recommended Product for Diabetic Neuropathy: CBD Pain Relief Patch
---
Athlete's Best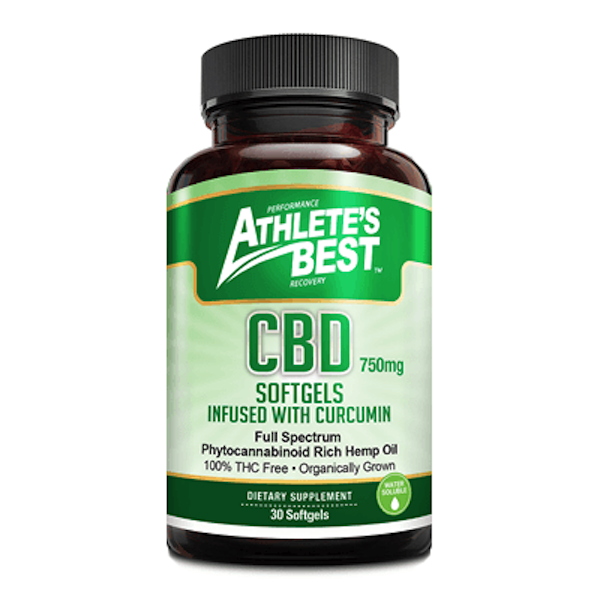 Athlete's Best is a CBD company that makes a lot of products that focus on helping athlete's to recover after their strenuous training sessions but there is no reason not to take a page out of their book when it comes to a product as great as the CBD Softgels with Curcumin.
The CBD in these softgel capsules is a proprietary blend that is water-soluble for faster absorption; this is made possible because of the nanoemulsion process that the company uses. The CBD particles in each softgel are nearly 200 times smaller than those in comparable products. This helps your body to absorb them faster and minimizes the amount of CBD that is lost to the first pass effect in the gut wall and liver. Curcumin is also a proven anti-inflammatory that works hand in hand with the CBD to help reduce the pain and inflammation that can come with diabetic neuropathy.
Our Recommended Product for Diabetic Neuropathy: CBD Softgels with Curcumin
---
Vertly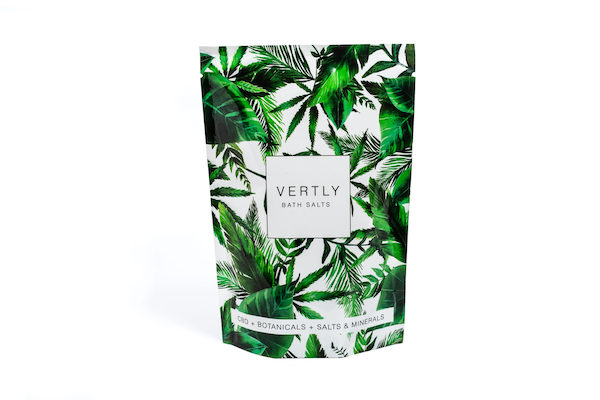 If you have diabetes, you know that soaking your feet is not recommended. It can dry out your skin, causing cracks that can lead to infections, and further complications. But, these bath salts are different. We don't recommend a true foot soak but you could easily add this product to your bath to help soothe not just your feet, but your legs and skin as well. This product is great for aches and soreness thanks to the CBD infusion; however, there are tons of other ingredients like yarrow, marjoram, rosemary, lavender, and more. This bath salt has moisturizing ingredients that will help protect your skin while the CBD and other ingredients can penetrate and soothe your aching body.
CBD will help protect your skin because it helps create the necessary barrier your skin needs to seal in moisture, decreasing the risk associated with traditional soaks for aches and pains. Another perk is that many of these ingredients help boost circulation, which can be a huge factor in decreasing neuropathic pain that is not very advanced.
Our Recommended Product for Diabetic Neuropathy: CBD Infused Bath Salts
---
Forms of Diabetes
There are two main forms of Diabetes: Type 1 Diabetes and Type 2 Diabetes. However, many people are surprised to learn that there is an additional 10 more forms of Diabetes. These forms of Diabetes are:
Gestational Diabetes: this form of Diabetes occurs when you have a higher-than-normal blood glucose levels during pregnancy;
LADA: LADA stands for "Latent Autoimmune Diabetes of Adulthood" and is Type 1 Diabetes that occurs to adults later in their life, as opposed to occurring during childhood, like how many people picture Type 1 Diabetes happening;
MODY: MODY (or Maturity Onset Diabetes of the Young) is a form of Type 2 Diabetes that occurs before the age of 25, but is not tied to obesity. This form of Diabetes does not always require the use of insulin, and has stronger genetic ties than regular Type 2 Diabetes has;
Double Diabetes: this form of Diabetes occurs when someone who has Type 1 Diabetes develops insulin resistance, which is the key symptom of Type 2 Diabetes. This type of Diabetes is difficult to manage, because it causes a decrease in efficacy of insulin;
Type 3 Diabetes: this type of Diabetes has been proposed as a classification for Alzheimer's Disease, due to the fact that Alzheimer's Disease is caused by insulin resistance which occurs in the brain. Insulin resistance is the hallmark symptom of Type 2 Diabetes;
Steroid-Induced Diabetes: this form of Diabetes occurs when someone that has to take Corticosteroids regularly (such as those suffering from Asthma, Lupus, Rheumatoid Arthritis, Crohn's Disease, and Ulcerative Colitis) because Corticosteroids can, over time, lead to insulin resistance;
Brittle Diabetes Mellitus: this is a particularly difficult to treat form of Type 1 Diabetes. It is more difficult to treat because those suffering from Brittle Diabetes Mellitus have extreme swings between hypoglycemia and hyperglycemia, causing great difficulty in achieving and maintaining a normal blood glucose range;
Secondary Diabetes: this form of Diabetes is caused by a primary illness, and is not linked to normal Type 1 or Type 2 Diabetes risk factors. Some diseases that can cause Secondary Diabetes includes: Cystic Fibrosis, Hemochromatosis, Chronic Pancreatitis, Polycystic Ovary Syndrome (which is commonly known as PCOS), Cushing's Syndrome, Pancreatic Cancer, Glucagonoma, and Pancreatectomy, among others;
Diabetes Insipidus: this form of Diabetes is not the same as blood sugar-related Diabetes, but shares many of the same symptoms and can benefit from many of the same lifestyle changes as those that can help blood sugar-related Diabetics, and;
Juvenile Diabetes: this is Type 1 Diabetes that occurs later in life than what is common, but is diagnosed before the age of 25.
Both Type 1 Diabetics and Type 2 Diabetics share many of the same symptoms, and can benefit from many of the same lifestyle changes, but these two forms of Diabetes differ in one very key way. In Type 1 Diabetes, the pancreas does not produce the hormone called insulin. The cells that produce insulin have been destroyed by the body's immune system, and so Type 1 Diabetics have to take insulin injections daily. Type 1 Diabetes is often caused by genetic factors, and is what is known as an autoimmune disease.
On the other hand, Type 2 Diabetics are able to produce insulin, but the production rate is often lower than what is normal, and the body is not able to use the insulin that is produced in an efficient manner. This is what is known as "insulin resistance" and is what leads to hyperglycemia.
Type 2 Diabetics can usually keep their blood glucose levels in check with nothing more than diet changes and being more active. If this is not enough for a Type 2 Diabetic to keep their blood glucose levels under control, then they can often rely on diabetic medications such as Metformin. Rarely do Type 2 Diabetics need to undergo insulin therapy to keep their blood glucose levels in a normal range.
Additional Resources: