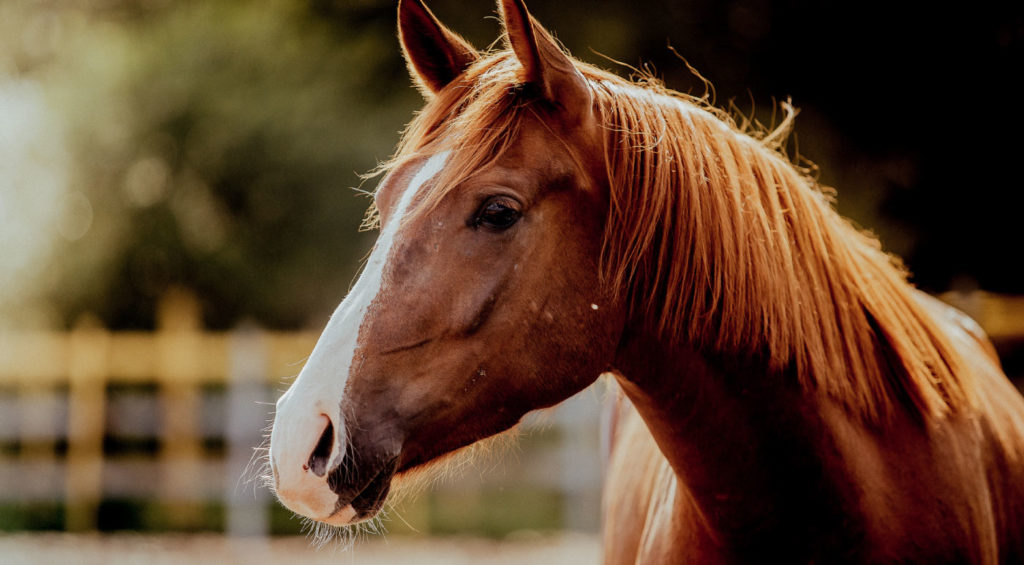 Horses have long been dutiful and trusted companions for people. They bear the brunt of hard labor, training, and long-distance travel, in turn leaving them with aches, pain, and inflammation just like our own. But CBD is an all-natural solution to helping horses stay happy and healthy, which is why we've made a list of the five best CBD for horses.
Quick Page Jumps To Find Your Horse's New CBD Oil!
---
The 5 Best CBD For Horses
Holista-Pet Full Spectrum CBD Oil for Horses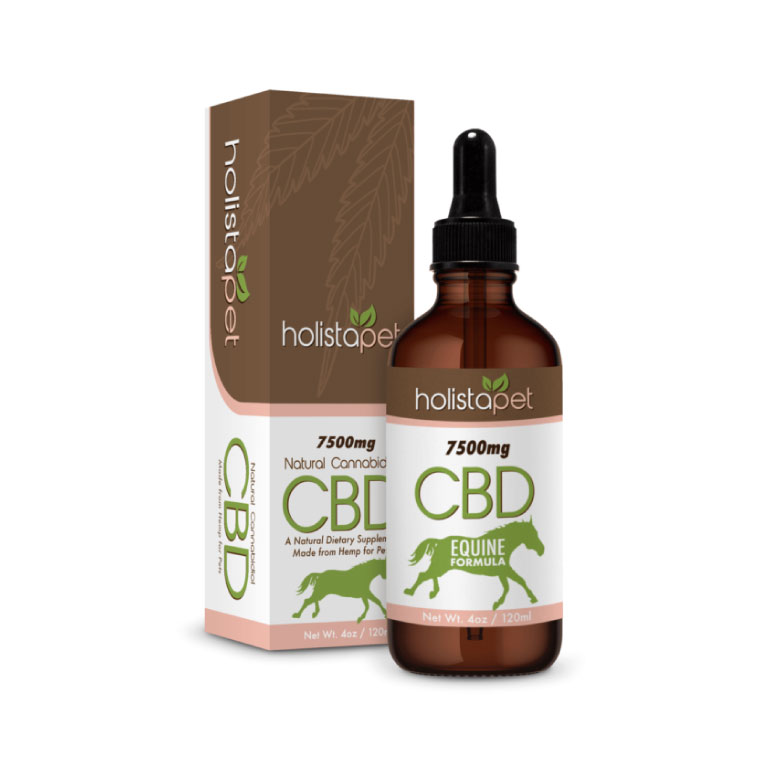 While some MCT oils are hard for horses to digest and will likely have adverse effects, the right type of oil added to their diet can improve a horse's mental and physical health. Holista Pet Full-Spectrum CBD Oil for Horses opts to keep it simple by blending hemp-derived CBD to hemp seed oil.
There may be some promise in using hemp seed oil for its high omega-3 fatty acid and alpha-linolenic acid content. The Kentucky Equine Research supports the notion that hemp seed oil and its omega-3 fatty acid content is a positive additive to a horse's diet.
The 7500mg tincture is one of the highest potencies available–necessary to meet the needs of a large and heavy horse. At such potent doses, it's essential to confirm that the batch is safe, which is why HolistaPet tests every batch through a third party for potency. While they do have a dosage chart available for dogs and cats, a guide for CBD horse doses is still in the works.
This 4 oz. bottle will cost you about $194.95. At such high potencies, this is one of the best deals you can get for equine-approved CBD oil.
Best for those looking for an affordably-priced CBD oil with high potency.
Honest Paws Broad-Spectrum Hemp Calming Oil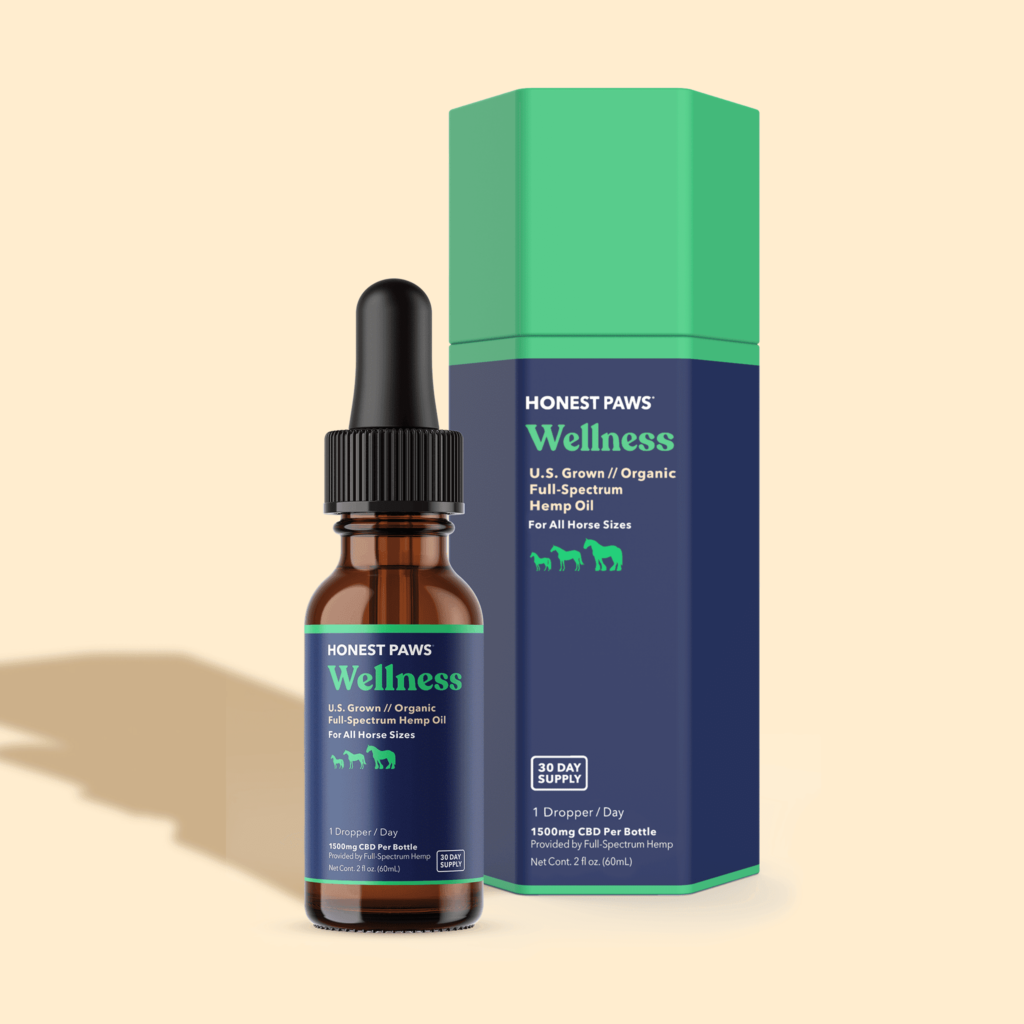 Honest Paws is familiar with making CBD for pets, and although they specialize in cats and dogs, they've created this Calming Oil to meet larger needs.
Honest Paws has made a reputation for itself in regard to CBD oil for animals and is one of the most trusted brands when it comes to additional ingredients, potency, and concentration.
This Calming Oil from Honest Paws is designed specifically for your hooved companion. These tinctures come in bottles ranging from 125 mg for $39.95 or 1000 mg for $99.95.
Organic and with no added ingredients, this calming oil is all you need to satisfy your mare's needs. What makes it worth buying from this brand is their 30-day no-questions-asked money-back guarantee.
Best for those looking for a highly-concentrated dose of CBD that's easy to administer.
---
CannaPet Advanced Max CBD for Horses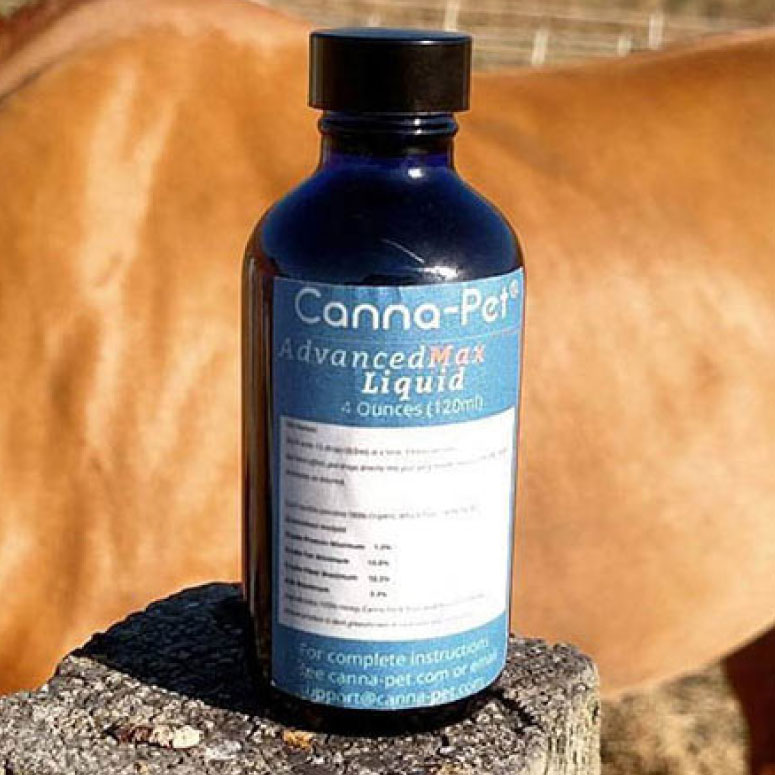 Horses are not able to process oil the same way we are. As such, some owners are wary of what kind of CBD they use and how much oil they can give their horses.
CannaPet created Advanced Max CBD with horses in mind, made specifically in liquid form. This 4 oz. bottle is highly concentrated and can be dispensed directly into the horse's mouth.
Lab reports are readily available and prove the purity and safety of the product. Additional reports reveal the true potency of this product exceeds 8,000 mg of CBD. As such, you'll pay a premium price of $899.99, although it's not far off in terms of industry standard per milligram.
Reviewers prove that even the horse will learn to love and appreciate its daily dose of CBD. For horses that internalize stress, you can expect to witness an increase in coat shine, improvement in appetite, and reduced inflammation from arthritis.
Best for those looking for a high-potency CBD product made without carrier oils.
---
Hemp My Pet Equine Olive Oil Formula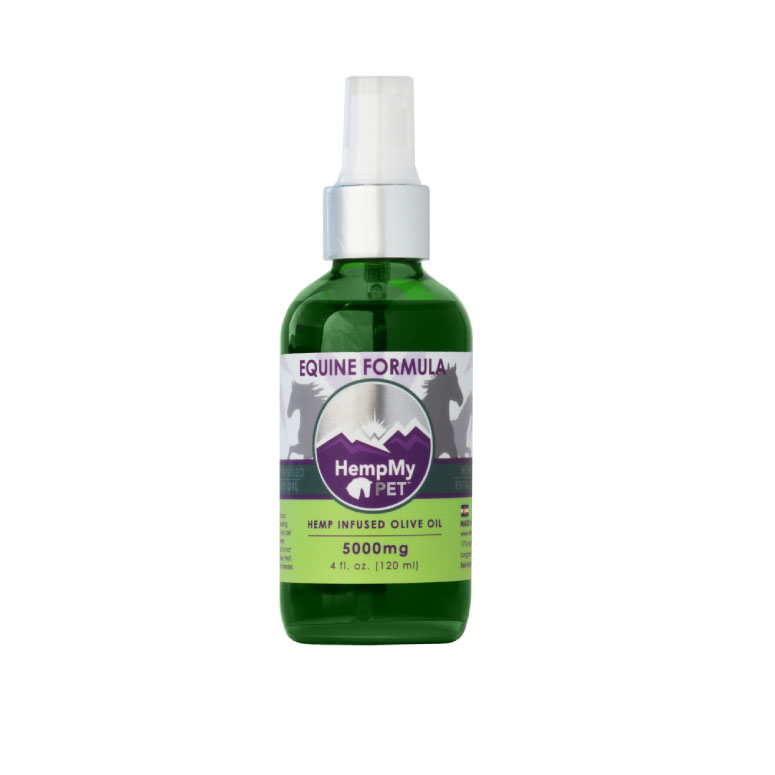 This equine-focused olive oil formula blends 100% organic cold-pressed olive oil with 5000mg of THC-free CBD extract.
Many owners opt to add oil to a horse's diet for an added dose of fatty and amino acids. While it can be very beneficial for your horse, bear in mind that it should be introduced slowly and carefully so as not to shock the system.
Additionally, horses aren't equipped to digest and respond well to all types of oils. The decision of Hemp My Pet to use Olive Oil in their Equine Formula is supported in that olive oil is safe for consumption by humans and, though horses may take some time to adjust to the taste, it's safe for them, too.
This 4 oz bottle costs about $199. It comes in a pump top which makes it a bit easier than other droppers to gauge the dose you're dishing out and allows you to add a little at a time to get your horse familiar with it.
Best for those looking to provide an easy and light administration of high-potency CBD oil to their horse's diet.
---
Green Flower Botanicals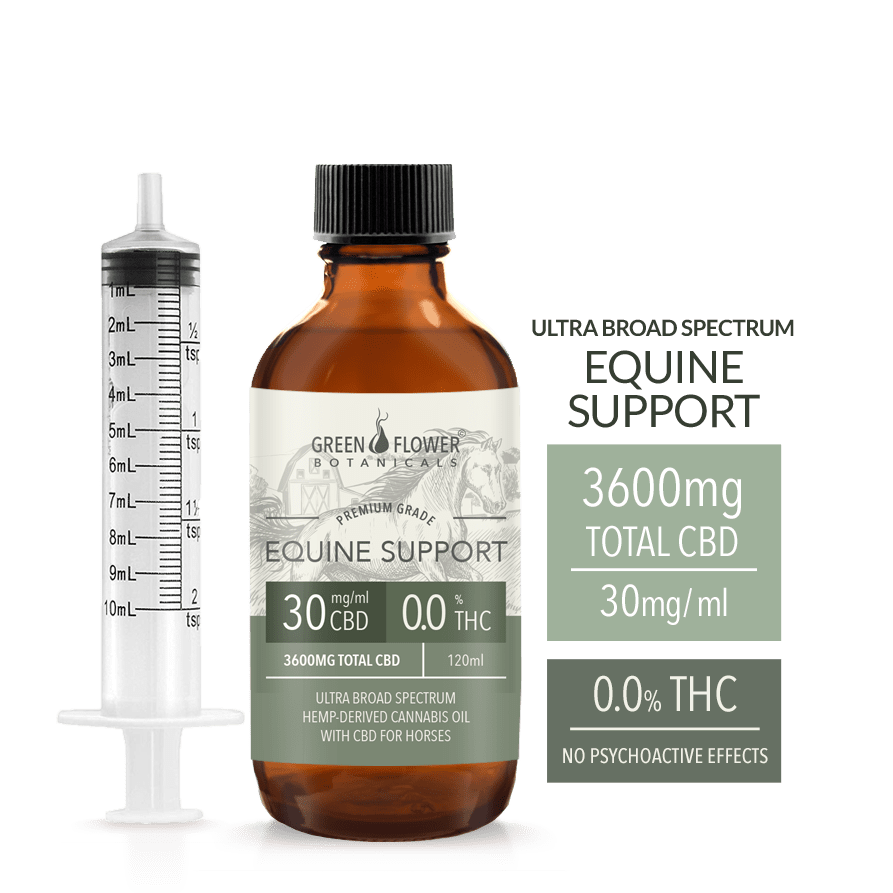 What's interesting about this product is that they consciously chose to create full-spectrum CBD hemp oil for horses while maintaining a commitment to being 0.0% THC-free. The full-spectrum detail derives from its profile of terpenes.
Not only does Green Flower Botanicals ensure quality, safety, and purity in its products, it engages further with their community of customers by inviting them to submit their own personalized field research after using equine CBD. It's these studies that will help to improve the breadth of available data on CBD, its benefit to horses, and its widespread acceptability.
Your four-legged steed will also likely need a heaping dose much larger than you or smaller pets do. Green Flower Botanicals offers lab-tested CBD oil as high as 3600mg (120ml per bottle).
At such high doses, it's important to be mindful of how much you're administering. Green Flower Botanicals is one of the only brands that offer a thorough Equine CBD Dosing Guide. The product also comes with a dropper included to help dial in on the exact dosage you need.
As expected, you'll pay a high price for this high dose. First-time customers can enjoy a 45% discount on the $182 bottle.
Best for those looking for a high-potency CBD oil for horses from a brand that maintains their own CBD research database.
---
What Types of Health Troubles Do Horses Experience?
What most people don't realize is that horses share more with humans besides just travel experience. Fast and adept runners, they're quite prone to arthritis of the joints.
Even worse, horses are exceedingly prone to gastric ulcers. The stress, and diet-related, onset of gastric ulcers can affect horses of any age, but especially older horses with a lifetime of racing and shows behind them. It's expected that 90% of horses will be afflicted with conditions such as these at some point in their lifetime, but outward symptoms are often difficult to pinpoint.
Horses are also prone to health troubles and diseases including colic, desmitis, and laminitis.
What are the Traditional Ways to Treat Horses?
Will so much potential for health concerns, how do we treat our horses? You may have heard of ketamine. Known colloquially as a "horse tranquilizer," ketamine is actually a safe-for-human-consumption anesthetic used widely throughout the world. The World Health Organization lists it as an Essential Medicine, but it's gotten into the hands of recreational users and as such has caused concern for international governments.
The truth is, ketamine used in appropriate amounts is exceptionally effective at controlling pain. In veterinary medicine, it's just as safe and widely used for anesthetizing horses for surgery.
But ketamine comes in to prepare for treatment when the pain or physical damage is already present. Horses, like humans, are subject to stress from a release of cortisol. An overabundance of this hormone can weaken the body, be it a horse or a human.
Ketamine isn't applicable for dealing with everyday stressors of farrier visits, changes in routine, or simple exhaustion from riding. Much like humans, some horses may be prone to internalize these stressors, making them undetectable until the damage is done.
For all of the troubles that man and beast share, there are also some similarities that help us to better treat them based on what we know works for us. All mammals have an endocannabinoid system, which, when properly regulated, can improve overall wellbeing.
CBD for Competitive Horses
As of September 2019, the United States Equine Federation prohibits the use of CBD. It is considered within violation of Equine Drugs and Medication Rules. They cite its anxiolytic (or anxiety-reducing) ability as a reason to include CBD on its list of prohibited substances.
Though many human studies of CBD's effectiveness already exist, the drug and health industries are still unsure of its full potential. In the case of horses and other animals, even less concrete evidence in favor of CBD exists.
As it persistently becomes more popular and moves into an animal-safe territory, it's very likely that more tests and personal anecdotes will help to prove CBD is safe and has positive effects.
Although race and show horses will have to limit how much CBD they can take, those who keep horses privately as pets or on farms have a bit more liberty to explore the therapeutic properties CBD can provide their horses.
Deciding on the Best CBD for Horses
If you're new to using CBD for your horse, we've organized a list of the five best CBD for horses. All of these products come backed with lab tests that prove there are no harmful chemicals, additives, or contaminants within the product that could pose a danger to the health of your horse.
Bear in mind, these products are much higher in CBD than typical human doses, and should be strictly reserved for use on horses. Additionally, horses should never be subjected to THC. CBD products intended for horses should always come from an organic hemp source, labeled for dosing accuracy, and without any traceable THC present. We've got you started with the five best CBD products for horses that fit the bill.
The Equine Endocannabinoid System
The endocannabinoid system is known to have receptors along the immune system, brain, and throughout the organs. These receptors are responsible for putting CBD to work when it's administered to the body.
In essence, it works in horses just as it does in humans. CBD can allow the body to release tension, ease pain, and soothe inflammation. An active lifestyle for horses innately results in a lot of stressors, and a little CBD can help.
Safely Dosing CBD for Horses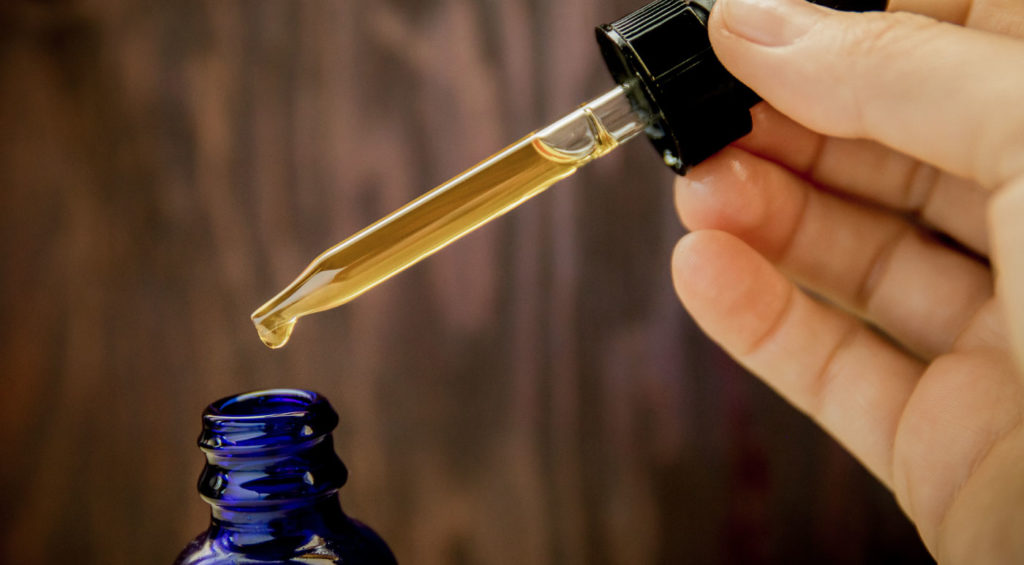 Depending on its breed, an average full-grown horse can weigh anywhere from 900 to 2,000 lbs. As such, horses generally need much stronger doses and potencies of CBD than humans do.
Depending on the type of product you purchase and its ultimate intent in the horse, your dose will vary. One thing is for sure; to maximize results, you'll need a highly-concentrated and potent dose of CBD.
CBD for Horses: Final Thoughts
While CBD's benefits are still trying to be proven to the professional medical community, we know its advantages well! On top of that, there is an understanding that humans and horses both benefit from using CBD to treat anxiety and pain. But all buyers must be sure the CBD they use for their horse companions must be made for horses and THC-free. Refer to our above list of the best CBD for horses to get started.
---
Additional Resources on CBD for Pets: