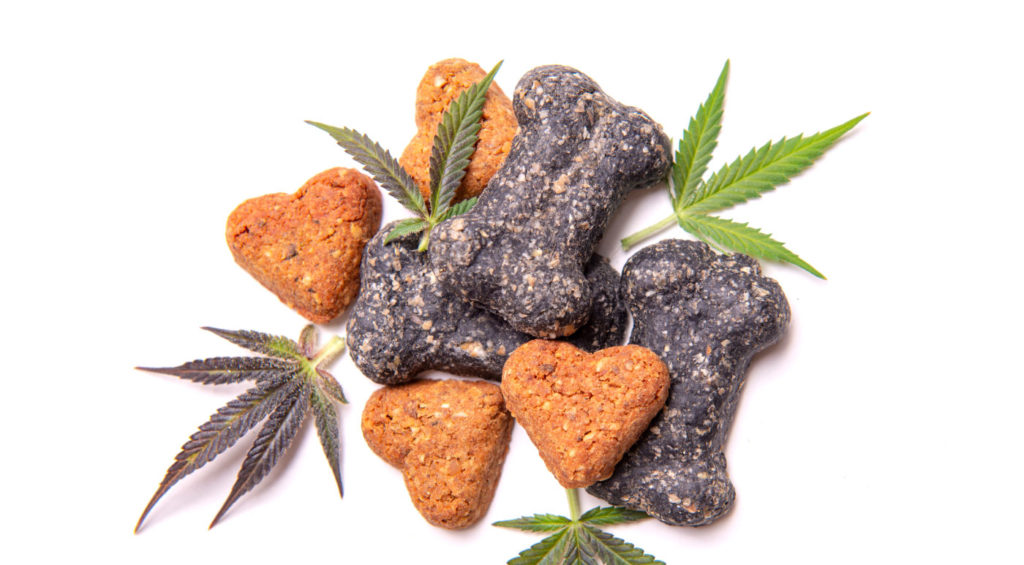 All mammals have an endocannabinoid system. And, just as it does in humans, CBD can help boost health and wellness for dogs. And what better way to administer CBD to your furry friend than through the best CBD dog biscuits?
Even if there are a plethora of brands slinging dog biscuits and treats, CBD treatments and supplements for dogs remains a somewhat uncharted territory. As the product base and demand for CBD products increases, these questions are being explored more and more.
An online survey of over 2,000 veterinarians was conducted to gauge the buzz about CBD within the pet-owning community. Vets from marijuana-legal states, unsurprisingly, reported a much higher number of inquisitive pet-owners in regards to giving CBD to their dogs.
Among them, the most common reasons reported for seeking CBD supplements were pain management, anxiety, seizures, and storm/fireworks phobias.
But regardless of the interest and science (which we'll get to in a moment), 66% of vets report never recommending CBD, while only 16% said they rarely did. The main reason for avoiding these recommendations is because of a lack of knowledge and a scarcity of research to draw from.
Find Your Tasty CBD Dog Biscuit With Page Jumps!
King Kalm Crunch by King Kanine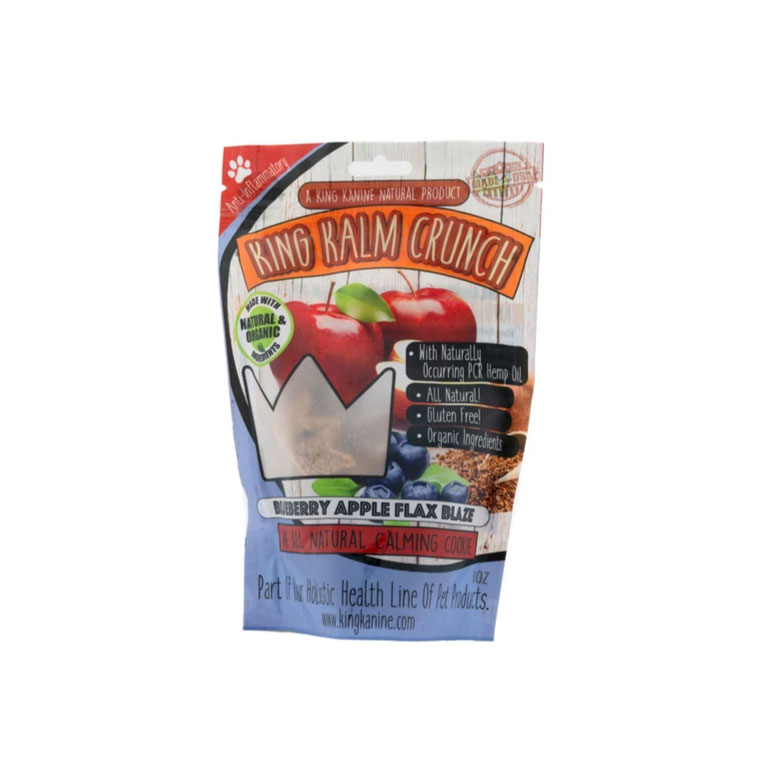 King Kanine specializes in creating CBD products for pets. They have oils, topicals, and now biscuits to help deliver CBD to your pet.
The King Kalm Crunch dog biscuits contain a 3mg phytocannabinoid-rich dose of CBD. The full bag, no matter which flavor, will contain 150mg of CBD. The flavors include apple cinnamon, blueberry, and honey oats. The ingredients will vary slightly based on flavor, but they are all made with rolled oats, krill oil (for suspending the CBD), and black peppercorn (to help your dog's body absorb the CBD).
As a testament to their devotion to "king canines," you'll be able to find a handy dosing chart on their site. This dosing chart helps you to make sense of how much your dog might need. The chart is specific to oil doses, but can help guide you through the appropriate amount of biscuits to give your dog, as well.
King Kanine's lab reports prove that THC levels are undetectable and the product is void of any other harmful ingredients. You have the full flexibility of choosing the right flavor for your dog and consistently getting 150mg of CBD dog biscuits for around $43.
Best for those looking for a consistent dose of CBD dog biscuits made by dog devotees.
---
Stress & Anxiety Relief CBD Dog Treats by HolistaPet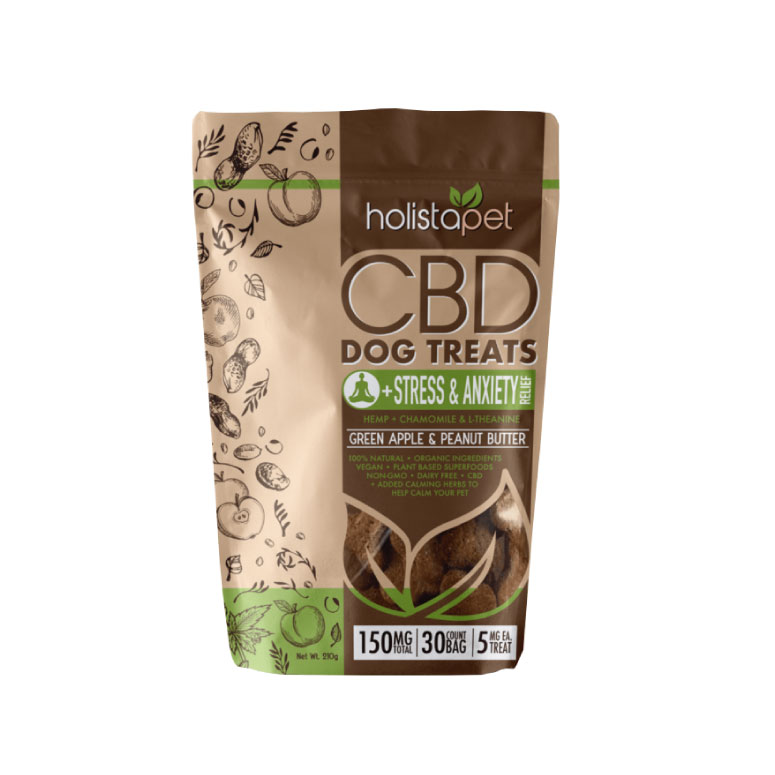 Even though much of their day is spent lying around, dogs experience stress. These treats from HolistaPet target stress and anxiety relief for dogs.
Made with full-spectrum CBD in plant-based biscuits, the Stress & Anxiety Relief CBD Dog Treats are a clean and healthy way to put an end to the shakes, or help ease the fear of car rides. Each treat holds 5mg of CBD, which is a good, flexible dose that you can add or take away from depending on the size of your dog.
The bag holds the standard quantity of 30 treats, making the full bag equal 150mg of CBD. It's flavored with dog-approved ingredients like green apple and peanut butter, as well as other natural ingredients that you'll be confident to provide your pet.
These treats are also boosted with L-theanine and chamomile to promote relaxation, as well as nutrition powerhouse hemp-seed powder.
Best for those looking for highly affordable and all-natural CBD dog biscuits for dogs who need rest and relaxation.
---
Dog Chews by Joy Organics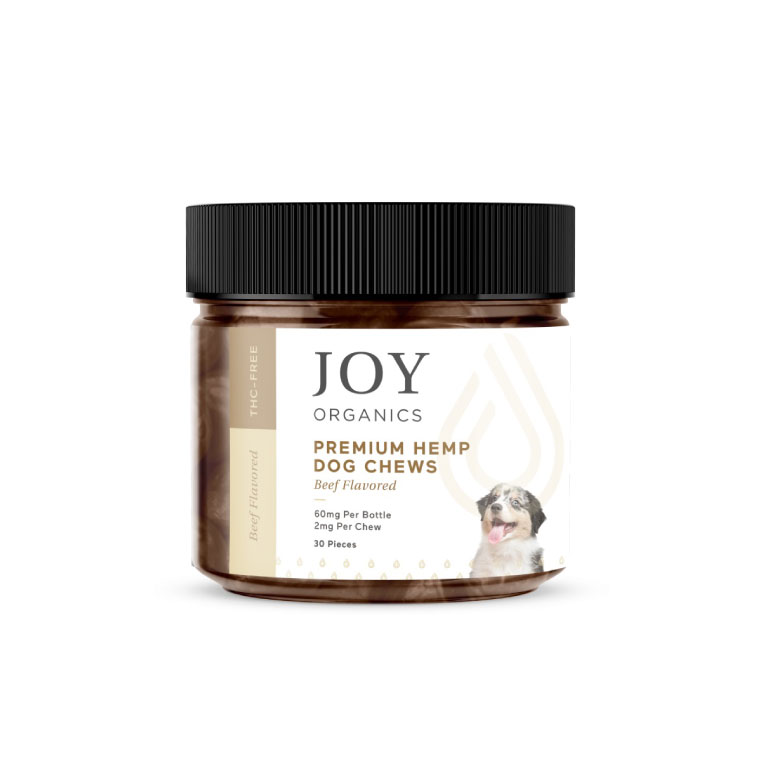 If organic food is important for you, it's important for your dog. Joy Organics puts wholesome, trusted ingredients at utmost importance to create well-rounded and effective products–including CBD dog treats.
One of their hallmark ingredients is the water-soluble CBD made through nano-emulsion. Instead of an oil-based CBD, the active molecules are made to be water soluble and, therefore, more bioavailable to the body. It works in human products, and now it's used to help give dogs the same quality treatment.
As always, Joy Organics uses THC-free, broad spectrum CBD. Each treat is dosed at 2mg, making it easy to find the sweet spot for your pooch.
Many other treats are made with peanut butter, but there are some dogs who are impartiable to that taste. These highly effective CBD Dog Chews by Joy Organics are blended with beef and bacon flavor, which a majority of dogs love.
A jar of 30 pieces costs $35. It's a good price for a dog chew considering the organic ingredients, and Joy Organics also offers free shipping.
Best for dogs who could benefit from CBD and who also love meaty treats.
---
Roasted Peanut Butter Calming Bites by Honest Paws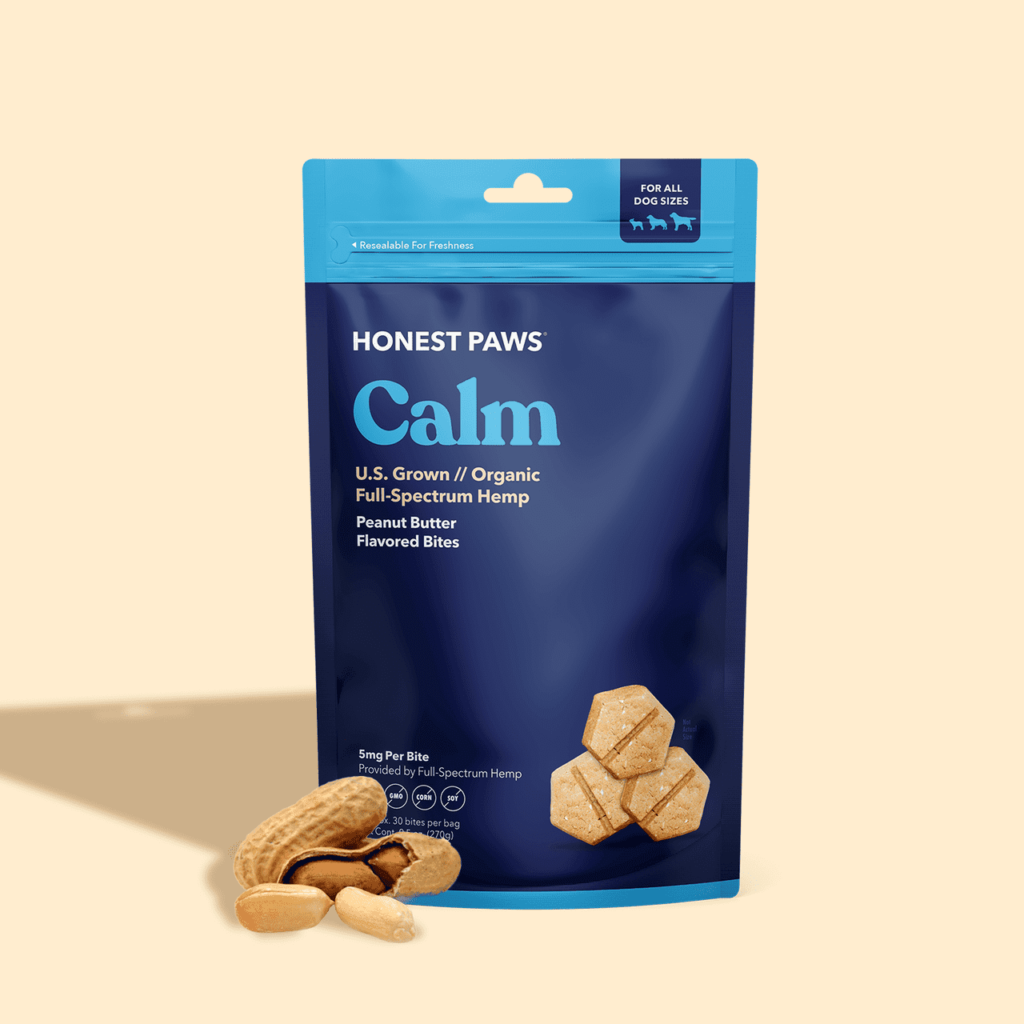 Honest Paws, as you can imagine, focuses on caring for pets.
The site immediately presents you with a consideration: Does your pet suffer from nervous behavior, joint pain, or skin and coat dullness? CBD-treats are aimed at combating all of that, and more.
Any of these issues can be met with sizeable match in a single product: the Roasted Peanut Butter Calming Bites.
These treats are all-natural, lab-tested, soy-free, and made with limited ingredients that are human-grade. It's also always a good sign when you don't have to dig for the lab reports. They're posted right to the page so you can reaffirm the CBD's safety before you even purchase their products.
A single chew is 5mg so, depending on the size of your dog, you may only need to give your anime one per day, or as many as 4. The bag has a standard offering of 30 bites.
Honest Paws understands the needs of dog parents so much that they've optimized their treats for breakability. No matter the size of your dog, you can hone in on the necessary dose by simply breaking the treat in half to add to, or take away from, the amount of CBD.
Ingredients aside, the price is also right on these Calming Bites. It's retail priced at $25 and you'll enjoy free shipping for orders over $40, plus a 30-day money-back guarantee.
Best for those looking for a great-tasting and quality bite for any dog who experiences anxiety.
---
CBD Biscuits by Austin and Kat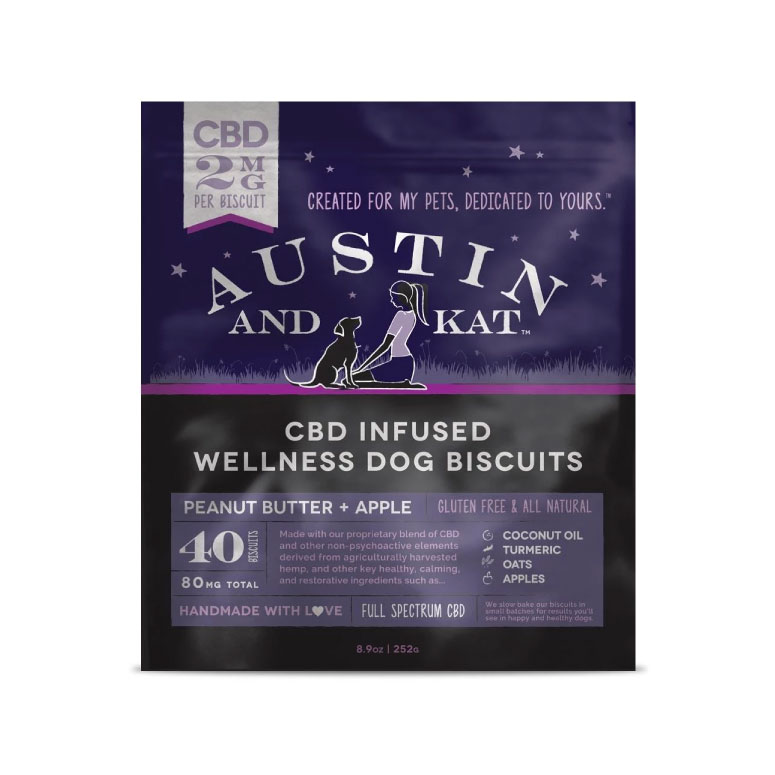 Austin and Kat makes an amazing dog biscuit with nothing but all-natural ingredients. The Peanut Butter and Apple flavored CBD Biscuits are made with apples, peanut butter, cinnamon, turmeric, coconut oil, and oats. You can get them in potencie of 2mg, 5mg, or 10mg.
The reasoning behind the milligram doses is simple. Smaller dogs will need less CBD than bigger dogs. However, there is always the option of buying the biscuits in greater potencies and cutting them in half, but you run the risk of skimping out on your dog's snack time!
These treats are not just all-natural, but also affordable. The low dose starts at $25 and the highest you'll pay for 10mg treats is $45.
Ideally, these treats act as less of a targeted supplement and more of an overall wellness boost for your dog(s). Either way, the low dose and natural dog-loved ingredients make it a nice treat to have for your dog after a long swim or any other activity-fueled day.
These treats can also be used for any sized dog with any type of ailment, be it thunder phobia or arthritis. Lab tests are easy to locate on the product page, so you can always purchase with peace of mind.
There's free shipping for orders over $80, so you may want to stock up. It's worth having them on hand as real good food for real good pups.
Best for those looking for weight-targeted doses of all-natural dog biscuits for dogs with achy joints or arthritis.
---
What Can CBD Do for Dogs?
The good news is that the body of research on CBD for dogs is growing.
Dogs also suffer from many of the same health issues as humans. Seizures, particularly, have been known as a troublesome problem in people, and the same goes for dogs. Thanks to the FDA's first approved CBD-based medicine Epidiolex, seizures as a result of Dravet's Syndrome can decrease in young people.
CBD has a similar effect on dogs. One study from the University of Colorado concluded that dogs dosed with CBD displayed reduced seizures than those who had received a placebo.
But even if your dog doesn't suffer from seizures, there are plenty of ways CBD can improve the quality of life for your pooch.
One study, like this one from Cornell, points at improved bone and joint function in old or active dogs. "A clinically significant reduction in pain and an increase in activity" was noted in connection with using CBD-infused chews.
For dogs with osteoarthritis, CBD could be an elixir of life. Studies have shown an increase in comfort and decrease in pain, giving dogs a renewed ability for activity at home.
CBD is also linked with helping dogs achieve better metabolic function, heart health, skin and coat condition, and exercise recovery. There is also potential for CBD to help dogs with cancer side-effects and epilepsy.
How Much CBD Should My Dog Take?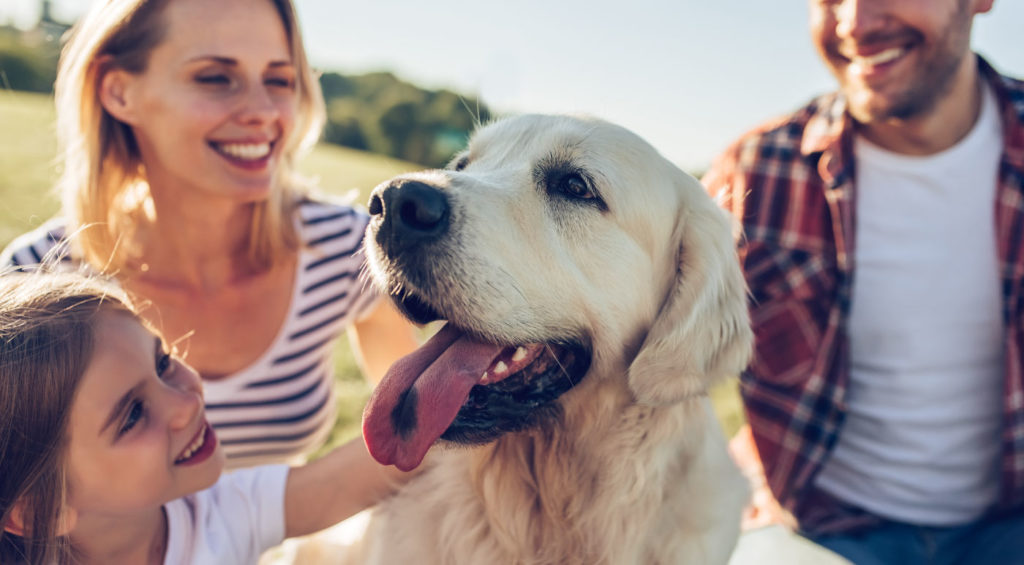 As with any medication, the positive results are contingent on getting the right dose.
Any human who has used CBD will be able to tell you that the sweet spot hinges on a few different factors. For dogs, one of the main defining considerations is weight.
Other factors will play a role–such as your dog's activity levels, other health conditions, etc.–but a good rule of thumb is provide 2mg of CBD per 10 lbs.
Keep in mind, this is just a starting point. What your dog really needs may be more or less of this amount. It's all up to you to assess how your furry friend reacts and responds to a given CBD dose and adjust as necessary.
Finding the Best CBD Dog Biscuits
We all want to see our animal companions live long and healthy lives. CBD seems promising for that, but only when done right.
Veterinarians report feeling unsure about distributing or recommending CBD and, as a result, rarely do. Without professional advisement, finding the right CBD dog biscuit takes a little extra research and attention.
The best CBD dog biscuits featured here are examples of CBD dog treats done right. First and foremost, the CBD that's used should always be backed by lab reports. These lab reports confirm that what's inside the product is free from toxins, including pesticides, residue, and unwanted chemicals.
Safety is the main priority. After that, you want to make sure that you invest in a CBD dog treat that your dog will actually enjoy. Protein-packed treats flavored with peanut butter or meat are some tried-and-true tastes that dogs can rarely resist.
We know that every pet is unique, so the following treats cover a range of preferences in both humans and pets.
Try one, try them all, or share with us your own personal favorites!
Additional Resources on CBD for Pets: